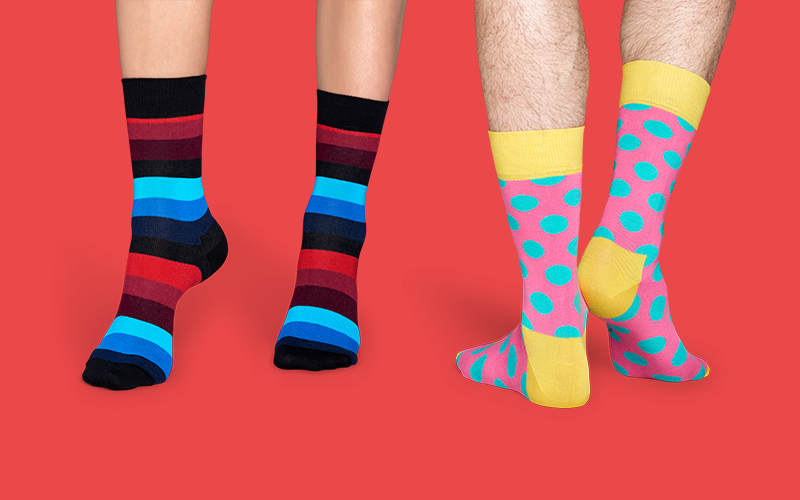 Basic essentials like socks are typically an afterthought. But with limitless color combinations and the mindset that there's a pair of socks for every occasion and style, Happy Socks brings these everyday essentials to the forefront. Get 30% off and free shipping now! Use promo code HappyGawker30 .

Happy Socks are designed in Sweden and manufactured in Turkey with high quality combed cotton and a reinforced toe and heel, making them incredibly comfortable and long-lasting. But it's their endless supply of colors, unique patterns, and original designs that make them the first fashion sock brand. Choose from typical styles like stripes, polka-dots, and argyle, to the more eccentric animal, paisley, feather, and stripe-dot socks. They even offer limited editions from collaborators like Snoop Dogg, Minecraft, and Candy Crush.

Pairs start at $12, but with 30% off, you can grab them for just $8.40. Other items include boxers for just $14, women's underwear for $8.40, and boxer and sock combo packs for $22.40. They even offer infant and kids socks.
Sometimes it is the little things that make us happy. So quit subjecting yourself to dull socks that are stretched out and riddled with holes, and grab some fresh, colorful pairs at 30% off and get free shipping. Use promo code HappyGawker30. Can't be used in combination with other offers/codes and not valid on the Snoop Dogg Collection, Gift Cards, & Outlet.
---
The Promotions team (we're on the business side, not editorial) negotiates discounts on notable products and services. If you're interested in partnering, have questions or comments, drop us a line at promotions@gawker.com.
Check out Shop to learn about more of our Promotions Partners and their products and services.