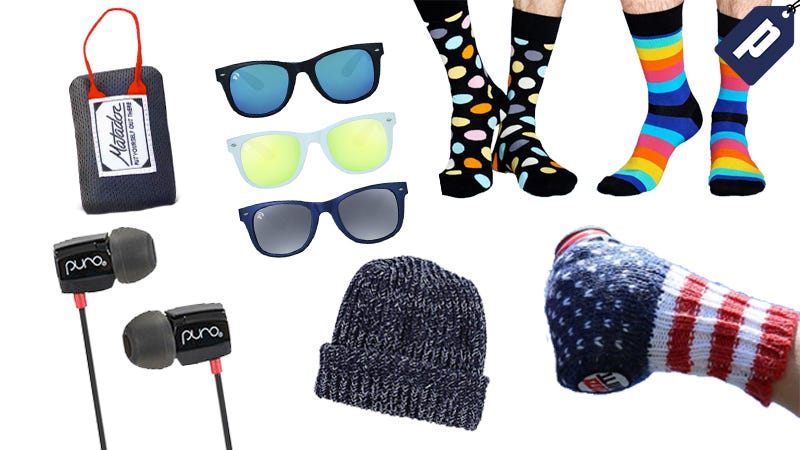 These gifts are all under $25 and work great as a lead up to your bigger gifts for friends or family but they're even better for Secret Santa, the roommate you never see, or that random holiday party you're getting dragged to. Save over 85% and knock out all the little stuff now.
---
Happy Socks brings sock style back to the forefront with limitless combinations and an endless supply of colors. They're comfortable, long-lasting, and offer a pair for any occasion. Choose from typical stripes, polka dots, and argyle, or more eccentric animal, paisley, and feather. Snag pairs for as low as $7 plus free shipping. Offer valid from 11/24 10:00AM EST - 11/28 3:00PM EST.
---
These hefty knit watch caps are made right here in the USA from 100% cotton, just as Columbia knit's been doing their high-quality knitwear for nearly a century. Available in black charcoal, you can stay warm in style and grab this marled watch cap for just $17.
---
The IllumiBowl is the color changing, motion-activated LED toilet nightlight that'll save you the stumbling and temporary blindness from those late night bathroom trips. A perfect addition to any toilet, you can get the IllumiBowl for just $17.
---
While most headphone makers only tout their powerful bass, Puro Sound Labs highlights their combination of sound clarity, ambient noise reduction, and healthy hearing. Grab the IEM-200 In-Ear Headphones for just $25 when you use promo code PUROSL15 at checkout. Code expires 11/30 12AM PST.
---
These polarized floating sunglasses from WavesGear are ideal sunglasses for water sports, relaxing at the beach or pool, tubing down a river, or day-to-day activities in the city. Available in Black, Tortoise, White, Navy, and many more, you can grab a pair of shades for just $18 with promo code FS-HOLIDAY55.
---
Pre-game and tailgate properly with Suzy Mitt, the ridiculous all-in-one knit glove and beer holder. The Suzy Mitt keeps hands warm at all times while keeping a cold one close, it's an automatic conversation starter. Snag one now for just $9 with code HOLIDAY55 and choose from 6 different colors.
---
Getting outside just got easier. Matador's Pocket Blanket — you guessed it — folds up to fit in your pocket, yet large enough for two. Water-repellent, puncture-resistant, weighted-corners — go ahead, put yourself out there. Pick one up now for just $20.
---
The Promotions team (we're on the business side, not editorial) negotiates discounts on notable products and services and Gizmodo receives revenue if these products and services are purchased. If you're interested in partnering, have questions or comments, drop us a line at promotions@gizmodomedia.com