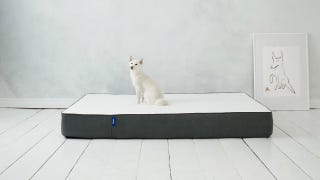 Despite spending a third of our time in bed, mattress shopping remains a dreaded activity. It's a soulless experience riddled with ambiguous terms, a lack of brand differentiation, smarmy sales people, and marked-up prices from major retail chains. Then there's Casper, who, with a direct-to-consumer model and a patent-pending sleep surface, is rethinking the modern mattress.
Casper is putting faith in a simple proposition - better sleep means a better life - with a single mattress designed to be comfortable for everyone. And they're willing to prove it to Jezebel readers with $50 off all mattress sizes (use promo code jezebel).
The Casper mattress is 10" tall and combines supportive memory foam with cool, bouncy latex foam. The top layer of breathable latex foam allows for more circulation, keeping you cooler while you sleep. It also provides a natural bounce that complements the supportive layer of memory foam. The result is a mattress suiting the needs of people on both ends of the soft-to-firm spectrum.
But Casper has not only redesigned the mattress, they've streamlined the supply chain. Leaving retailers behind, Casper ships the mattress right to you, rolled up in a small box that can fit through any doorway. It ships in 2-5 days nationally or same-day in New York City.
They even offer a 100-night guarantee. If you decide it's not for you, they'll send someone to pick up the bed for donation and refund your entire purchase. That means you can actually sleep on the bed in your own home, for months. It's a welcome change from briefly laying down in a well lit showroom as a sales person hovers over you.
Casper offers the following sizes:
Twin: $500, Twin XL: $600
Full: $750, Queen: $850
King & California King: $950
Jezebel readers can take $50 off any Casper mattress, using promo code jezebel, and begin getting more out of every day with better sleep each night.
---
The Promotions team (we're on the business side, not editorial) negotiates special offers on notable products. Interested in partnering with us? Drop us a line at promotions@gawker.com.