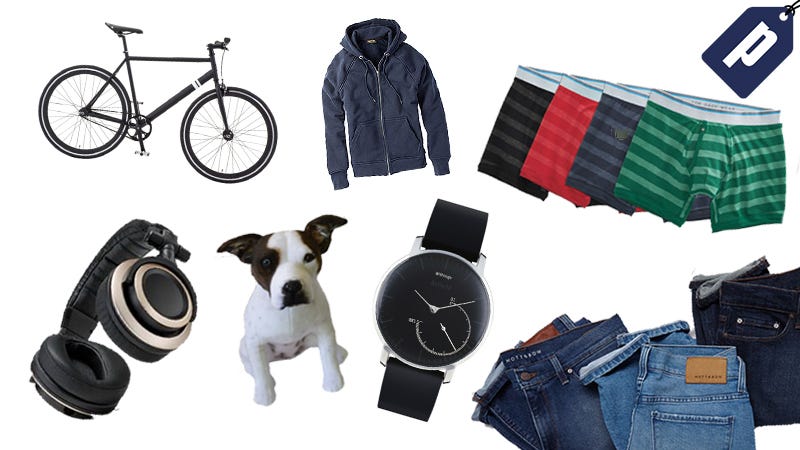 Now's the time to give yourself the gifts that you really want while saving up to $100. Choose from headphones, jeans, bikes, watches, and more.
---
Status Audio puts sound quality over flashy looks or gimmicky marketing. The CB-1s, their closed-back headphones, are designed for audio engineers who need total clarity, but you don't need to be in the studio to enjoy them. They come complete with ergonomic ear-pads and two detachable cables (coiled and straight) that twist lock. Save 20% with code AUDIOPHILE and get yours for $63 plus shipping.
---
Tushy is a simple bidet that attaches to your toilet (it connects directly to the fresh water supply behind the toilet) without the need of any plumbing or electricity. Choose the classic Cool Water Tushy or the Warm+Cool Tushy with temperature control, (the Warm+Cool Tushy requires a separate water line so your toilet must be next to the sink). Take 15% off and get one for $59 with code GIZMODO. Discount applies to all current collection bidets.  
---
Withings takes a subtle, futuristic twist on the traditions of minimalist European design and Swiss watchmaking. The Activité is made with surgical grade 316L stainless steel and a scratch-proof crystal, and when set via your phone's Bluetooth, it transforms into a fitness tracker logging workouts and sleep patterns. With $20 off, this traditional turned modern watch is just $130.
---
Cuddle Clones will make a custom, hand-crafted stuffed animal clone of any of your beloved pets. Whether it's a keepsake after a pet has passed or something for a current pet, they're incredibly fun. Take $50 off your Cuddle Clone with code CC50 and get one made for $200. Allow 5-7 weeks for your clone to be created.

---
Cruise the streets in style with a modern bicycle from independent bike maker Solé. With 10 colorways available across 3 models, readers can save $100 on any ride (the new Dutch collection or mystery bike not included) and grab a set of wheels starting at just $299 plus free shipping. Use promo code Holidaze at checkout.
---
Flint and Tinder rebuilt the 10 Year Hoodie from the ground up, but kept it 100% made in the USA. Cotton grown in the Mississippi Delta is woven into unshrinkable 23 oz. fleece in South Carolina. Zippers and metal hardware are machined in Georgia, before being expertly cut, sewn, and washed in Los Angeles. And of course, the 10 Year Hoodie is backed for a decade and only $89.
---
Snag high quality handmade jeans from Mott & Bow, the online retailer that ensures the perfect fit. Select two sizes in each order and return whichever doesn't fit for free. Starting at $96, save 20% on your first order of jeans with code MABHOLIDAY.

---
Mack Weldon makes the daily essentials like underwear more comfortable with the right fit and fabric. With over 16 different styles and colors to choose from starting at $19.50, you can save 20% with Mack Weldon using promo code reallycomfortable.
---
The Promotions team (we're on the business side, not editorial) negotiates discounts on notable products and services and Gizmodo receives revenue if these products and services are purchased. If you're interested in partnering, have questions or comments, drop us a line at promotions@gizmodomedia.com