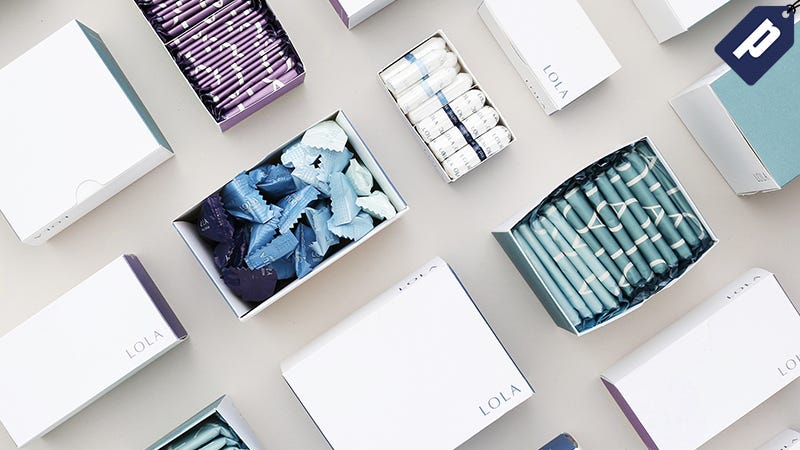 We expect safe and natural options for our everyday beauty products so why should our tampons be any different? LOLA, the all-natural feminine care brand, will help you raise your standards and have a more natural period. Get 60% off your first order now with promo code JEZEBEL.

The LOLA founders were like most women, buying the same tampons every month without much thought. But once they realized tampon manufacturers aren't required to disclose what's in their products, they took it upon themselves to create LOLA. Their feminine care products are made from organic cotton without use of any synthetics, harsh chemicals, fragrances, or dyes found in many other brand's products.
Choose your box of 18 tampons by selecting your mix of light, regular, super, or super+ options. Starting at $3.60 for one box with the discount, choose to receive one, two, or three boxes in either applicator or non-applicator options and have them delivered every month or two months. In addition to tampons, LOLA now offers ultra thin organic cotton liners and pads starting at $3.60 for one box. Plus, with every purchase LOLA will make a product donation to homeless and domestic violence shelters across the US as apart of their charity program, LOLA Gives Back.
Get a head start on your New Year's resolution and feel good about using natural and safe feminine care products from LOLA. Get 60% off your first order with promo code JEZEBEL.
---
The Promotions team (we're on the business side, not editorial) negotiates discounts on notable products and services and Gizmodo receives revenue if these products and services are purchased. If you're interested in partnering, have questions or comments, drop us a line at promotions@gizmodomedia.com