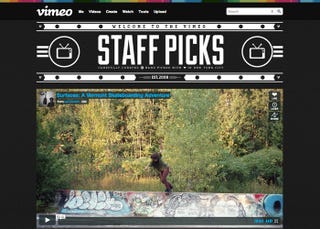 The power of video lets you connect with people and impact them in incredible ways. Want to join the video revolution? We've got the hookup! Lifehacker readers can grab an exclusive 15% off when signing up with Vimeo Plus with code LIFEHACKER15. Read on for some of the crazy and cool ways people are using it!
>> Sign up for Vimeo Plus using the code LIFEHACKER15, and you'll get 15% off your new membership. Or read on for more details!
Get to Know Vimeo Plus
When you've created a slick video masterpiece you want to upload and share, there's nothing more annoying than running out of space and having to hold off for a week. One of the big perks of Vimeo Plus is it boosts your upload limit to 5GB of videos per week — and that's in 1080p HD quality, no less. Your videos get priority too, so they upload and go live faster with instant conversion. Equally rad is the fact any tech questions you might have get answered in under four hours on business days. That's speedy!
You can also spice up your embedded video player with custom color schemes and configurations to draw viewers to your creations. That's a biggie, as setting yourself apart from the pack is a great way to standout and grow your audience. They'll also appreciate not having sit through any ads when watching your videos — something that you benefit from too when using Vimeo as a Plus member. Control is key in other ways as well. Domain-level privacy lets you decide where your videos can and can't appear.
With an unlimited number of Groups, Channels, and Albums, Vimeo Plus makes it easier than ever to organize your content, and offering it for viewers to download lets them enjoy your projects on their own time. You can also track views, follows, plays, as your audience grows.
But really, the coolest part? It's seeing what kinds of amazing things Vimeo Plus members are up to!
See What Creators Are Making with Vimeo Plus
---
Artist and animator Kirsten Lepore's Channel showcases her mix of professional stop motion projects and behind-the-scenes vignettes. Check out this touching animated short, simply titled "Bottle."
---
With his Vimeo Plus membership, Paul Wex creates fascinating travel videos of people and places of faraway cultures. This piece, titled "Big Little World," captures a fascinating trip to visit his girlfriend during her medical internship in the Seychelles.
---
When young filmmaker Bianca Giaever recorded a conversation with a six-year-old about what her next project should be about, the touching tale of adventure that ensued proved too charming to ignore. The result short film, "The Scared Is Scared," is just one of many fascinating projects on Giaever has on her Channel. Don't miss it!
---
Feeling inspired? We thought so. If you want to get in on the action, now is a great time to let your creative spirit flow in video form.
>> Sign up for Vimeo Plus using the code LIFEHACKER15, and you'll get 15% off your new membership.
Other important details: the offer applies to first-time Vimeo paid members only and is only valid for the Vimeo Plus annual membership. The offer expires 11/30, so don't dally. There's a limit of one discount per customer. This cannot be combined with other offers, is not transferable, cannot be exchanged for cash or any equivalent, and is void where prohibited.