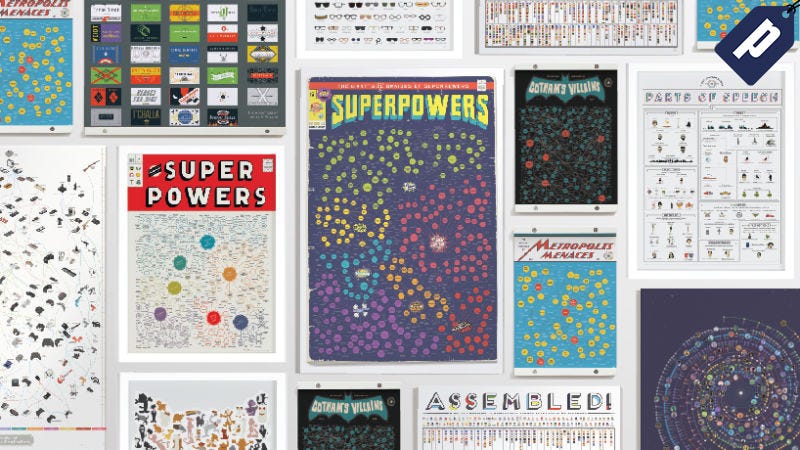 Pop Chart Lab, the makers of informative, detailed art (and long recognized by Deadspin and Gizmodo), is offering 30% off all prints in their comics section with promo code GAWKER30.

Pop Chart Lab specializes in intricate mappings and taxonomies of culturally relevant as well as niche and obscure interests. From food and drinks to sports, music, and fashion, Pop Chart Lab has turned raw data into beautiful designs of useful and fun information. And in this case it's call comic book related.
Here are some of our favorites, but you can see them all here.
THE MYRIAD MONIKERS OF GOTHAM'S VILLAINS 2.0 (12" x 16"): $20 now $14
THE GIANT-SIZE OMNIBUS OF SUPERPOWERS (24" x 36"): $35 now $24.50
A POP CULTURE PRIMER ON PARTS OF SPEECH (18" x 29"): $29 now $20
Each Pop Chart Lab piece is intricate enough to keep you discovering something new with every look. Whatever your interests are, they've got you covered. Check out their comics page and get 30% off your order with promo code GAWKER30. Coupon code expires 7.25.16.
---
The Promotions team (we're on the business side, not editorial) negotiates discounts on notable products and services. If you're interested in partnering, have questions or comments, drop us a line at promotions@gawker.com.