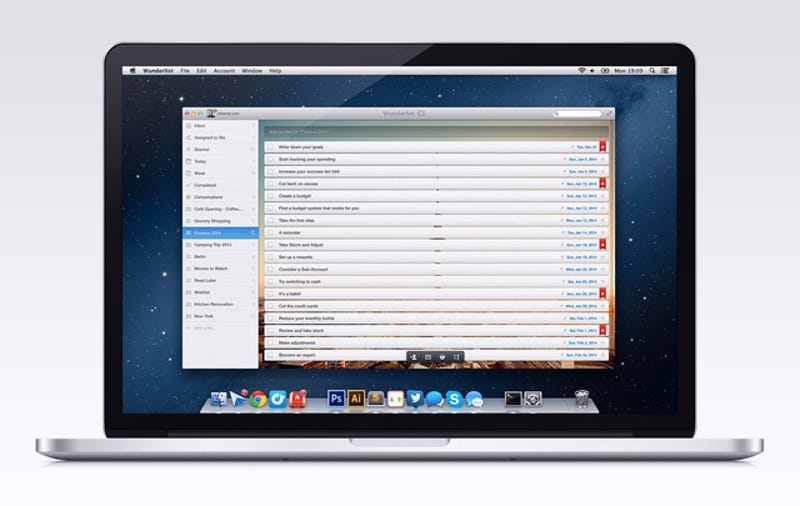 Sticking to your New Years Resolutions doesn't have to be a difficult task. Wunderlist, one of Lifehacker's favorite to-do list apps which was just named the Mac App of the Year, is focused on assuring you that you're on the right foot with a 12 month subscription to Wunderlist Pro at 50% off.
While an amazing minimalist to-do list that stands on its own for single users, Wunderlist Pro is a great collaborative tool that helps groups stay organized. A favorite of Lifehacker's for years, Wunderlist standalone is a simple and easy to use cross-platform list that allows you to create lists, add tasks, select your due date, and search through everything you did or need to do.
With Pro, even more is achievable: you've got the collaborating tools at your fingertips (you can assign to-dos to your team), the ability to attach files (photos, spreadsheets, or whatever else), commenting functionality to share feedback and insights, and the ability to create unlimited subtasks especially if you have a monster of a task that needs smaller actionable to-dos.
Wunderlist wants to assure that you that you're the best come 2014, with three awesome New Years Resolutions lists. With these in mind, you can truly rock it (and all other to-dos in 2014) with these additional tips suggested by 6Wunderkinder Founder and CEO Christian Reber:
Keep it simple: Don't overwhelm yourself with too many to-dos and ensure that you only have one or two bold resolutions—nothing more.
Take advantage of tech: Today, we've got tech at our fingertips no matter where we're at. Take advantage of the Wunderlist mobile apps to ensure that you stick to your goals.
Involve those closest to you: Make it social! Share your goals with your family and friends so your resolutions will be harder to break and so that you'll get motivated too. In fact, you are ten times more likely to reach your goals and succeed if you share your New Years Resolutions with those who care about you. With Wunderlist, you can invite them to your list to make sure you achieve your goals in 2014.
Keep track of progress: Keep yourself motivated by charting your progress. Wunderlist is also able to help ensure that you keep your eye on the prize.
Reward yourself: Keep your chin up and reward yourself, especially in the beginning when it seems very hard to do.
>> While you're thinking of getting geared up for a rocking 2014, get Wunderlist Pro today for 50% off—that's $25 for the year instead of $50.
* This special introductory price is available for one week (December 17th-24th, 2013) and is valid for new Wunderlist Pro subscribers only, and is limited to a 12 month single subscription. Once the 12 month period has ended, your subscription will be auto renewed at the non promotional price unless cancelled.