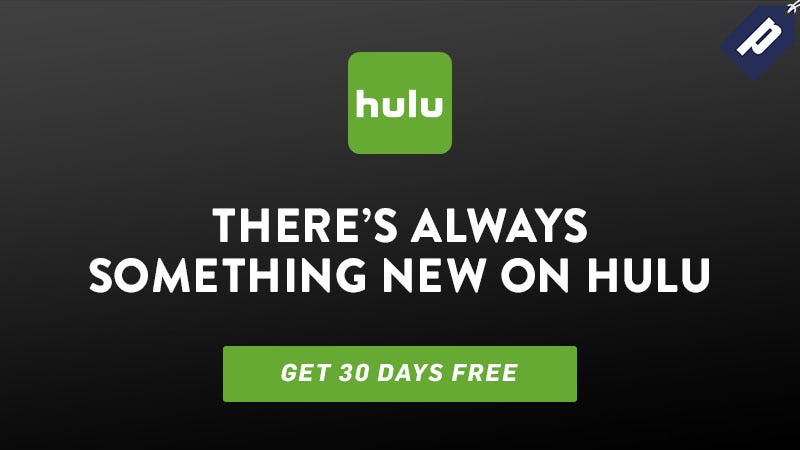 Make Hulu your go-to streaming destination and start your free 30-day trial today. Stream today's most popular shows the day after they air, exclusives only available to Hulu, originals, movies, and kids favorites.
With your free 30-day trial you'll be able to relive timeless comedies like Seinfeld and Golden Girls, keep with up Hulu Originals like The Mindy Project and The Path, and watch hit movies like Dirty Grandpa and 10 Cloverfield Lane. And here's what's coming up in the next 8 weeks:

3.17.17 - Fargo Season 2
3.28.17 - Archer Season 7
4.24.17 - Preacher Season 1
4.26.17 - The Handmaid's Tale (A Hulu Original)
Once your free 30-day trial ends, choose between the Limited Commercials plan at $7.99/month or the No Commercials plan for $11.99/month. Both plans will get you unlimited access to Hulu's movie and 1ooK+ TV show libraries, current season episodes next-day, the option to add Showtime, and more.
Offer valid for Limited Commercials plan only. New subscribers only. Offer ends 06/12/17. $7.99 monthly subscription fee, plus applicable taxes, applies after free trial ends unless you cancel before end of free trial period. SHOWTIME® available for $8.99/month. Cancel anytime. Cannot be combined with any other offers. Hulu subscription is subject to Hulu's terms and conditions: www.hulu.com/terms.
---
The Promotions team (we're on the business side, not editorial) negotiates discounts on notable products and services and Gizmodo receives revenue if these products and services are purchased. If you're interested in partnering, have questions or comments, drop us a line at promotions@gizmodomedia.com