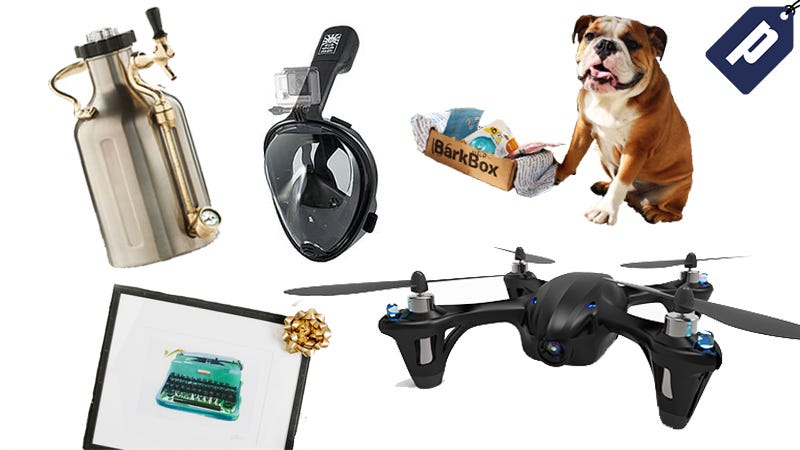 Sometimes it is better to give than to receive and that's never more true than when you find a unique gift worth spending a little extra on. Especially when you save up to 65%.
---
Place an order in five minutes with Framebridge while making a lasting gift. Upload or send in the piece you want framed (they'll send pre-paid packaging), choose the size, frame style, and send it off. Once received, their expert team will handcraft your custom piece and ship it (for free) straight to you or anyone on your list. Take 15% off with promo code GIVEFRAMES15. First time customers only. Prices start at $39.
---
Treat your dog to BarkBox, the monthly delivery of toys and treats that's just as fun for you as it is for your dog. They'll receive a box of surprises with a new theme each month while BarkBox donates portions of proceeds to local shelters in the U.S. and Canada. Your free month is auto-applied to any new 6 or 12 month plan at checkout.

---
Keep your brew fresh and on tap for weeks with these keg-growler hybrids. Double-walled, vacuum-insulated stainless steel, VPR Cap (for adjustable carbonation), Pressure Gauge, Dispenser Tap, even an interchangeable Tap Handle for personalization — the uKeg 64 oz does it all. Enjoy free shipping, free returns and up to 10% off.
---
Casper designed their single mattress to satisfy all sleep preferences, providing everyone with better sleep every night. Made with a combination of supportive memory foam and a top layer of breathable latex, the Casper mattress always maintains a comfortable temperature. Get a 100-night trial with no commitment, plus save $50 with promo code SPLURGE.
---
The H2O Ninja Mask ($140) is your ticket to the best snorkeling experience on the planet. Its revolutionary design offers a full-face seal so you can breathe normally through your mouth — and nose. The one-way ball valve prevents water from flooding your airway for depths up to 10 feet. Plus, when you come up there's no water in your airline, making for seamless resurfacing. Enjoy free shipping, free returns, and 15% Off.
---
This palm-sized drone is powerful and ready to fly out of the box. It comes with a 4-channel remote, 6-axis flight control system, it can do 4 types of flips, and offers both beginner and expert flight modes. It includes a USB cable for charging directly at your computer and can fly for 10 minutes when fully charged. Grab one for $69 and save 65%.
---
The Promotions team (we're on the business side, not editorial) negotiates discounts on notable products and services and Gizmodo receives revenue if these products and services are purchased. If you're interested in partnering, have questions or comments, drop us a line at promotions@gizmodomedia.com