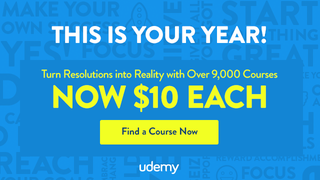 Udemy, one of the largest and broadest marketplaces for online learning, is offering one of their most popular classes, The Complete Web Developer Course - Build 14 Websites, for just $10, a savings of 95%! Even better, they're offering 9,000 of their other classes for $10 each, too. There's now no excuse for not making your New Year's resolutions a reality.
The Complete Web Developer Course is for anyone interested in learning how to build websites and apps, both as a hobby and professionally. Whether you're looking to fine tune your skills or learn from the ground up, this course is all you'll need. It features over 233 lectures and 28.5 hours of content. Course highlights include:
HTML: Structure of a web page, header tags, formatting text, unordered and ordered lists, images, forms, links, tables, iframes
CSS: Inline CSS, classes & IDs, divs, colors, floating, positions, margins, padding, borders, styling, aligning
Javascript: Internal javascript, accessing elements, responding to a click, changing website content, variables, arrays, if statements, for loops, while loops
Build your own responsive websites using more advanced techniques such as iQuery PHP, MySQL and Twitter Bootstrap
Develop blogs and eCommerce sites with Wordpress, and learn intelligent ways to add dynamic content, using APls to connect to sites such as Google Maps and Facebook

You'll also have personal contact with the teacher and a community of students for support as well as unlimited web hosting for one year to knock out your own projects with your newly acquired skills.
If web development doesn't intrigue you, choose from 9,000 courses at $10 each. Make your New Year's resolution happen with some help from Udemy.
---
Terms and Conditions: Coupon code is not valid with any other promotional offer or discount and is valid until 1/9/14 11:59 PDT. One coupon code use only per purchase. Coupon code requires a Udemy account, and is subject to terms and conditions found here. Udemy reserves the right to cancel the coupon code at any time. Coupon code is not exchangeable for cash. Coupon code is not valid with purchases made on the Udemy iPhone, iPad or Android app. Some courses do not apply. If you return your purchase, you will be refunded the amount paid. Offer good while supplies last.

---
The Promotions team (we're on the business side, not editorial) negotiates special offers on notable products. Interested in partnering with us? Drop us a line at promotions@gawker.com.