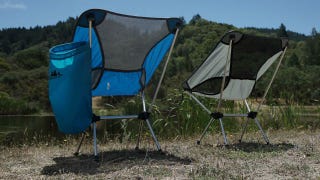 If you've been waiting for a chair that's versatile enough to fit all your outdoor needs look no further than the Kawartha Camp Chair. It's perfect for any outdoor activity and with promo code LH50 you can get it for 50% off. That makes the Kawartha just $45.
The Kawartha Camp Chair is the outdoor companion you've always wanted for camping, hiking, fishing, outdoor concerts, and tailgating. While it weighs in at a mere 1lb 7oz, it has a weight capacity of 250 pounds with unfolded dimensions of 26" x 21" x 21." When packed it's only 14 x 5 inches so a regular-sized backpack can easily hold four chairs.
Additionally, Kawartha assembles in under 30 seconds using a hub a pole system of anodized aluminum, just like a tent. The seat is made of water repellant ripstop nylon and mesh and it all folds quickly into a stuff sack for storage and transport. And when assembled the same stuff sack doubles as a catch-all for anything you're carrying (from your wallet, phone and keys, to camping accessories like flash lights, knives, and snacks).
Whether you're looking for something to relax in after a long day on the trail or you're just going to knock a few back before the game, this chair works in any outdoor setting. Save 50% using promo code LH50 and get the Kawartha Camp Chair for $45.
---
The Promotions team (we're on the business side, not editorial) negotiates discounts on notable products and services. If you're interested in partnering, have questions or comments, drop us a line at promotions@gawker.com.
Check out Shop to learn about more of our Promotions Partners' products and services.