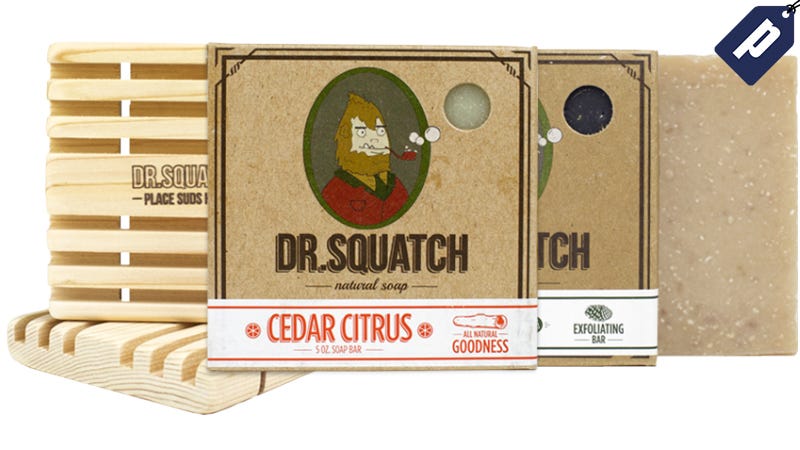 Subjecting yourself to soap that leaves your skin irritated and dry is unnecessary and downright irresponsible. Take 25% off the favorites bundle from natural soap maker Dr. Squatch and treat your skin to three different scents plus a soap saver for $27.
Dr. Squatch soap is hand-made using the traditional cold press process. This means retaining the glycerin so that, along with coconut and olive oils, the soap leaves your skin feeling clean, smooth, and refreshed. Most commercial manufacturers however take the glyercin out for use in other products, which means you get clean but also end up with dried out, irritated skin. And that's a terrible unintended consequence for staying clean.
Instead with the Dr. Squatch Natural Soap favorites bundle you'll get:
Gold Moss - A solid earthy smell based in woodsy oak notes
Pine Tar - Made with real pine extract for ultra-manly scent that's balanced out by nourishing oatmeal and soothing shea butter
Cedar Citrus - A refreshing blend of cedar and zesty orange oils
Soap Saver - This cedar wood block extends the life of your soap by allowing it to dry out quicker with six slats and also reduces shower scum
Order your Dr. Squatch favorites bundle for just $27 and save 25%. You'll smell great and you'll leave your skin looking and feeling refreshed.
---
The Promotions team (we're on the business side, not editorial) negotiates discounts on notable products and services. If you're interested in partnering, have questions or comments, drop us a line at promotions@gawker.com.