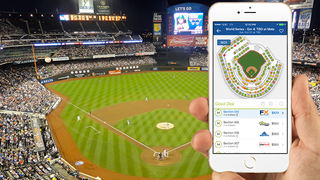 With the World Series coming up next week, what better way to witness baseball history than with tickets from SeatGeek, where no event is sold out. SeatGeek is giving readers $20 back on their first order to any event, with promo code LIFEHACKER.
SeatGeek pools the tickets of every trusted ticketing site (from major marketplaces to individual brokers) in one place to make comparison shopping easy. Whether you're looking for tickets to professional sports, college games, concerts, theatre, comedy, or any other live event, you'll find all the deals at SeatGeek. Their comprehensive ticket selection means no event is ever truly sold out, with last minute ticket prices dropping significantly.
SeatGeek's interactive map zooms down to the exact row where seats are located, letting you know right where you'll be for any event.
The Deal Score rates every ticket from 0-100 based on value, so you can quickly find the best deal and not have to worry about overpaying.
Mobile tickets are now available and allow ticket delivery directly to your phone so you never have to print again.
Ticket transfer allows you to instantly transfer or sell your tickets to your friends right from the app, so you don't have to worry about meeting up before an event.
With the app you can confidently buy your tickets in two taps and all tickets come with a 100% authenticity guarantee.
With interactive maps, the Deal Score system, and mobile tickets, SeatGeek sets itself apart from any other ticketing site. And best of all, SeatGeek is offering $20 back on your first order. Use promo code LIFEHACKER (valid for first time customers only).

---
The Promotions team (we're on the business side, not editorial) negotiates discounts on notable products and services. If you're interested in partnering, have questions or comments, drop us a line at promotions@gawker.com.
Check out Shop to learn about more of our Promotions Partners and their products and services.