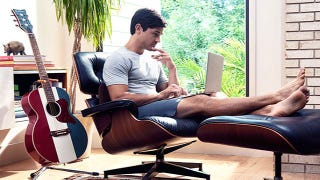 Frustrated that underwear, a very simple product, can still have so many fundamental flaws, Tommy John decided to make a pair that was both functional and comfortable. Save 20% (use promo code SPIN20) on your first Tommy John order (from $23) and say goodbye to leg ride-up, waistband movement, and slyly readjusting from your pocket.
Here's how Tommy John is able to bring functionality and comfort together, realizing everyman's dream of underwear that doesn't keep creeping back up:
First they offer underwear in five styles: brief, boxer brief, boxer shorts, trunk, square cut
Then three different fabrics, all soft and lightweight: Second Skin with non-pilling micro-modal; Cool Cotton dries 4-5x faster; 360 Sport with extra stretch, utility pocket

And all come with a Horizontal Quick Draw fly for easy access, when you need it
A contour pouch so you won't need to readjust
And a waistband that won't roll down or leave marks
All this makes for underwear that's incredibly comfortable and with all the functionality other makers overlook. With the same approach, Tommy John also makes undershirts and socks.
Take 20% off your first order, and if you find your previous underwear that scrunched up into a ball while wearing them was more fitting, Tommy John will give you a refund or let you exchange them for another pair. Use promo code SPIN20.
---
The Promotions team (we're on the business side, not editorial) negotiates special offers on notable products. Interested in partnering with us? Drop us a line at promotions@gawker.com.