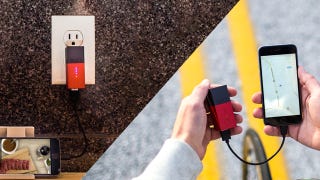 Fluxmob is offering Jalopnik readers 33% off Bolt, a pocket-sized combination wall charger and backup battery. Get Bolt for just $39.99 using promo code jalopnik33 and say goodbye to hunting for an outlet in public and desperately trying to conserve your phone's battery.
Bolt was made to replace your old charger; plug it directly into the wall, connect it to your device, and both will automatically charge. If the connected device has low battery, Bolt will charge that first, followed by charging itself.
Whether you're going to the coffee shop, bar, camping, traveling, or stuck at the airport, Bolt is made to be on-the-go without taking up space. Wherever you are, when your phone's battery starts getting low just plug it directly into Bolt and watch your battery restore to 100% in less than 2 hours. Once charged, Bolt will automatically turn off.
Here are some highlights of Bolt:
The Bolt weighs just 3.1 oz and the wall plug folds directly into the device, maintaining its sleek, minimalistic design.
The battery is 3000mAh Samsung Li-Ion Battery, or enough power to charge an iPhone 5s about 1.5 times.
Bolt can charge iPhones, Androids, cameras,bluetooth devices, just about anything with a USB connection and charging port.
From a wall outlet, the Bolt can be fully charged in 3-4 hours.
Press the power button to quickly check the battery level via the LED lights.
Choose from six colors: crimson, argon, graphite, pacific, tango, and stealth.
For those on the move, regular travelers, or anyone with an already depleted phone battery, Bolt is your all-in-one battery and charger solution. Get it now for $39.99 using promo code jalopnik33 and spare yourself low battery woes while saving 33%.
---
The Promotions team (we're on the business side, not editorial) negotiates special offers on notable products. Interested in partnering with us? Drop us a line at promotions@gawker.com.