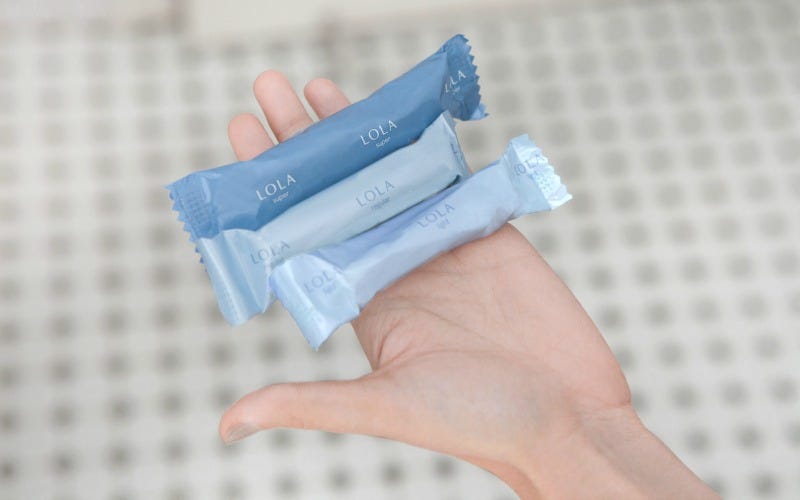 We expect safe and natural options for our everyday beauty products so why should our tampons be any different? LOLA, the synthetic-free tampon maker, doesn't believe this women's essential should be an exception. Get 60% off your first order now with promo code JEZEBEL and raise your standards.
Tampon manufacturers aren't required to tell you what's in their products, so most won't mention the synthetics like rayon and polyester that are prominent ingredients. LOLA however is happy to discuss their simple, biodegradable tampons. They're made from 100% hypoallergenic cotton without use of any synthetics, harmful chemicals, or dyes. That wasn't so hard, was it?
Equally great, LOLA delivers the tampons to you so you never have to worry about running out again. Simply choose your assortment of 18 light, regular, or super tampons in quantities of six. Then choose one (regularly $10, now just $4 on first order) or two (regularly $18, now just $7.2 on first order) boxes per shipment. And finally decide to have them delivered every month or two months. Plus the subscription is flexible, they email you before every order ships so you always have time to change, skip, or cancel in just two clicks.
Feel good about using natural and safe tampons from LOLA and have them delivered so you never have to panic to find one again. Get 60% off your first order with promo code JEZEBEL.
---
The Promotions team (we're on the business side, not editorial) negotiates discounts on notable products and services. If you're interested in partnering, have questions or comments, drop us a line at promotions@gawker.com.
Check out Shop to learn about more of our Promotions Partners and their products and services.