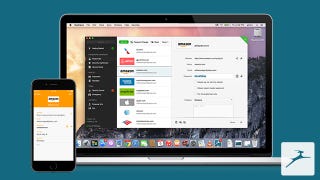 We all know that having one password for dozens of sites and services is a bad move while remembering unique passwords for each is an exercise in patience. Solve this with 15% off Dashlane Premium password management, which syncs across all devices, for just $33/yr. Or, get Dashlane Free on a single device.
Dashlane is more than seamless password management in an easy to use interface, it also combines accurate auto-fill for any forms, and a secure digital wallet experience. Here are the highlights that helped make it a Lifehacker Five Best:
Password Management: Auto import passwords from your browser to a secure password vault; automatic login for every account, including those with two or three required fields; change all your password with a single click with a password generator that saves new passwords to your vault; team password sharing across all member devices

Form Auto-Fill: Works for names, emails, addresses, phone numbers, payment types, IDs, expiration dates, titles, and anything else on a form; all auto-fill options appear on the page as you fill out forms
Digital Wallet: Store everything from credit cards and bank numbers to Paypal and Venmo info; All receipt and screenshots of purchases are automatically saved
You'll also receive alerts about security breaches anywhere you have an account so you can update passwords immediately. Plus Dashlane Premium not only syncs across all your devices, you'll also get web access to your passwords even if you're not using one of your devices and you can encrypt and back up your account on the cloud. Plus you'll get priority in the customer support queue.
Grab Dashlane Premium now and sync all your passwords across every device you own and saving 15%. Or, start with Dashlane Free and enjoy complete password management on any single device. Discount only available on the first year of Dashlane Premium.
---
The Promotions team (we're on the business side, not editorial) negotiates special offers on notable products. Interested in partnering with us? Drop us a line at promotions@gawker.com.