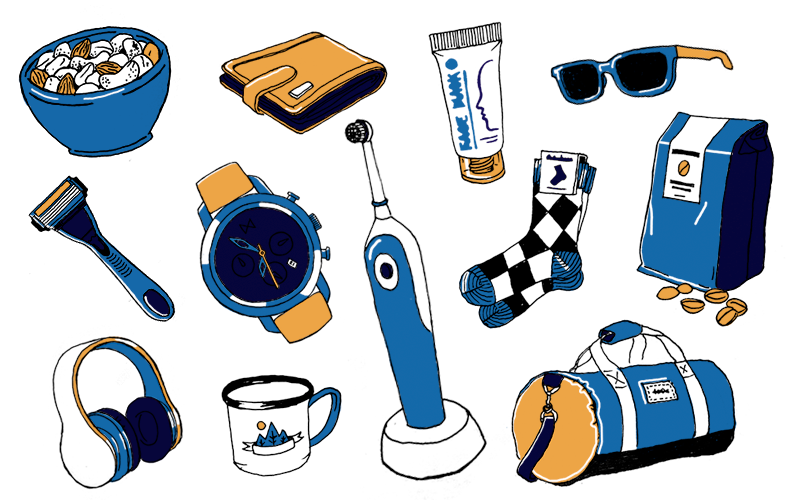 The stress of last-minute holiday shopping is here, which in of itself is ridiculous. So instead grab some great gifts without subjecting yourself to the mayhem that is in-store shopping. Save up to 60% with gifts starting from $8.
---
These cord tacos from Hide & Drink are the perfect way to manage and conceal cords in your bag, pocket, car, or home. Save 50% and tie up loose-ends with cord organizers handmade from full grain leather and rustic metal snaps (appearance improves with age and usage). Choose from bourbon brown, Florida flamingo, and black. Use promo code HD50 and get a Cord Taco 5-pack for $13.
---
The Pocket Kick wireless speaker from Soundfreaq is incredibly portable, fitting into any pocket, bag, or backpack for on-the-go listening. Pocket Kick features a rechargeable battery for up to 10 hours of playtime, and comes in three distinct colors: black, gold, and platinum. Use promo code HOLIDAYFREAQ to save 40% on Pocket Kick. Code expires 1/4/16.
---
MoviePass is a simple but game-changing idea: pay a monthly fee and get unlimited movies (one per day) in theaters throughout the US. Plans start at $30 per month and vary by zip code. It works in 95% of movie theaters and the intuitive app works on iPhone and Android devices. Get unlimited movies and save $10 on your first month of a month-to-month plan. 3-D movies not included
---
With the holidays quickly approaching, tickets to a big game or concert is the perfect stocking stuffer. Check out SeatGeek, the mobile app that pools the tickets of every trusted ticketing site into one place. With promo code HOLIDAY20, SeatGeek is giving $20 back on first orders to any event.
---
The TGT Wallet (pronounced tight) is designed to reduced bulk and allow for maximum comfort and easy pocket storage. Handmade in the U.S, the minimalist design solves the problem of the over-sized wallet. The TGT Wallet can hold as little as one card or up to 20. Get 20% off site-wide from TGT Wallet using promo code HOLIDAYTGT.
---
Pre-game and tailgate properly with Suzy Mitt, the ridiculous all-in-one knit glove and beer holder. At $10, the Suzy Mitt keeps hands warm at all times while keeping a cold one close. Available in ten colors including new Christmas Sweater and Stars & Stripes, it's an automatic conversation starter. Snag a Suzy Mitt now for 50% off with promo code SUZY50. Offer expires 12/25/15.
---
WavesGear has reinvented the water bottle with the Forever Cold. This beast doesn't just hold 34oz of fluid, it keeps drinks cold for a full 24 hours, or hot for 12 hours. Forever Cold is ideal for the all day hike, camping, road trips, or lounging around the house. Choose from black, silver or white. Grab one and save 50% with promo code STOCKING-FC50.
---
With more volume and less surface area than your average ice cube, the Original Whiskey Ball melts slower while still keeping your drinks cold. You'll get two molds to make two, 2 and 1/2" ice balls. Keep your drinks cold without ever diluting them again. Save 20% and get a set for just $19.
---
The Snowflake Stealth Drone is not only versatile, but extremely fun to fly. This compact drone 4-way flips and 360° rolls in any direction, perfect for indoor or outdoor flight. The Snowflake Stealth drone is ready to fly right out of the box. Snag it now for 65% off. Drones typically ship in 1-2 days but due to holidays is not guaranteed.
---
Happy Socks brings sock style back to the forefront with limitless combinations and an endless supply of colors. Not only are Happy Socks comfortable and long-lasting, but they offer a pair for any occasion. Get 30% off and free shipping now with promo code HOLIDAY30. Can't be used in combination with other offers/codes and not valid on the Snoop Dogg Collection, Gift Cards, & Outlet.
---
The Promotions team (we're on the business side, not editorial) negotiates discounts on notable products and services. If you're interested in partnering, have questions or comments, drop us a line at promotions@gawker.com.
Check out Shop to learn about more of our Promotions Partners and their products and services.