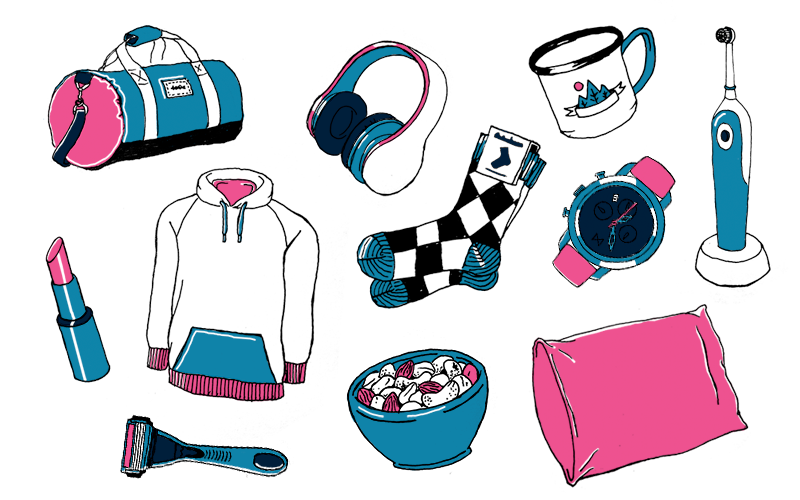 The stress of last-minute holiday shopping is here, which in of itself is ridiculous. So instead grab some great gifts without subjecting yourself to the mayhem that is in-store shopping. Save up to 60% with gifts starting from $8.
---
MoviePass is a simple but game-changing idea: pay a monthly fee and get unlimited movies (one per day) in theaters throughout the US. Plans start at $30 per month and vary by zip code. It works in 95% of movie theaters and the intuitive app works on iPhone and Android devices. Get unlimited movies and save $10 on your first month of a month-to-month plan. 3-D movies not included
---
These cord tacos from Hide & Drink are the perfect way to manage and conceal cords in your bag, pocket, car, or home. Save 50% and tie up loose-ends with cord organizers handmade from full grain leather and rustic metal snaps (appearance improves with age and usage). Choose from bourbon brown, Florida flamingo, and black. Use promo code HD50 and get a Cord Taco 5-pack for $13.
---
These Moscow Mule mugs are made of 100% copper, have a seamless interior, and hold 18oz each. They're perfect for any cocktail and get better with time as they develop a unique patina. They're also dishwasher safe, so keep them polished and they'll always look brand new. Save 20% and get the set for just $40.
---
The Pocket Kick wireless speaker from Soundfreaq is incredibly portable, fitting into any pocket, bag, or backpack for on-the-go listening. Pocket Kick features a rechargeable battery for up to 10 hours of playtime, and comes in three distinct colors: black, gold, and platinum. Use promo code HOLIDAYFREAQ to save 40% on Pocket Kick. Code expires 1/4/16.
---
With the holidays quickly approaching, tickets to a big game or concert is the perfect stocking stuffer. Check out SeatGeek, the mobile app that pools the tickets of every trusted ticketing site into one place. With promo code HOLIDAY20, SeatGeek is giving $20 back on first orders to any event.
---
The Aeropress replicates the pressure of a real espresso machine by using hot water, compressed air and paper filters to make flavorful coffee through full immersion. Simply measure your coffee (it makes 1-4 cups), pour the hot water, let it steep, and push the plunger to force liquid through the filter into your cup. Save 15% and get one for $30, and make a quality cup in 30 seconds.
---
This three pack of extra-large micro fiber towels from WavesGear are particularly versatile, offering more functionality than the every day cotton towel. Micro Towel is great for the gym, beach, park, yoga, camping, or traveling. Choose from either regular or XL sizing, with colors in blue, grey, and orange. Grab a three-pack now and save 50% with code STOCKING-MT50
---
The Promotions team (we're on the business side, not editorial) negotiates discounts on notable products and services. If you're interested in partnering, have questions or comments, drop us a line at promotions@gawker.com.

Check out Shop to learn about more of our Promotions Partners and their products and services.