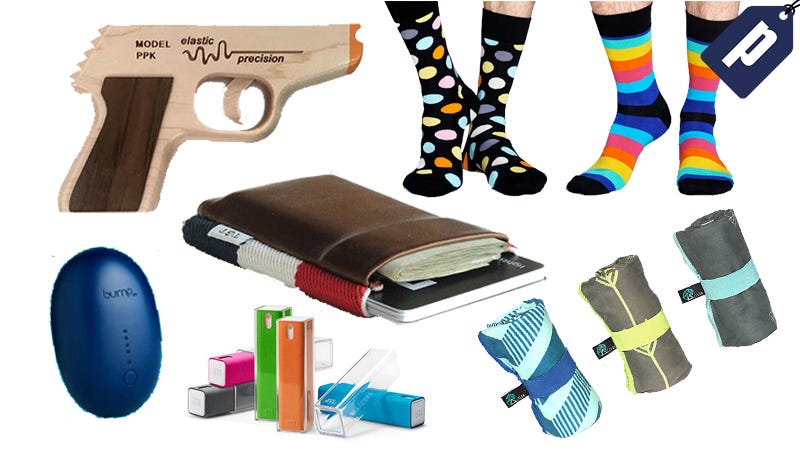 These stocking stuffers work great as a lead up to your bigger gifts for friends and family but they're equally good when you don't know what do for that Secret Santa gift. Resist the urge to give someone the bottle of booze and do something more creative. Save up to 85% and knock out all the little stuff now.

---
Happy Socks brings sock style back to the forefront with limitless combinations and an endless supply of colors. They're comfortable, long-lasting, and offer a pair for any occasion. Choose from typical stripes, polka dots, and argyle, or more eccentric animal, paisley, and feather. Snag pairs for as low as $7 plus free shipping. Offer valid from 11/24 10:00AM EST - 11/28 3:00PM EST.
---
The TGT Wallet (pronounced tight) is designed to reduced bulk and allow for maximum comfort and easy pocket storage. Handmade in the U.S, the minimalist design solves the problem of the over-sized wallet. The TGT Wallet can hold as little as one card or up to 20. Grab a wallet for as low as $27 using promo code TGTxHOLIDAY.
---
Seek revenge on your foes with this Model PPK Rubber Band Gun from StackSocial. Handmade from solid white oak, this model gun semi-automatically fires rubber bands up to 20 feet and comes with a pack of 50. Grab one now from StackSocial for just $20.
---
The Acteon microfiber towel comes in four different designs, and with their unique odor fighting material and compact form, they're the perfect complement for a day at the beach, gym, or travel any day traveling. Grab one now from Acteon for just $15 with code GWKRFALL16.
---
Take the party outside with this set of four (4) 2-oz. stainless steel shot glasses and keep it all together with the hammertone green steel carrying case. With stainless steel design (no rust), naturally BPA free, dishwasher safe — we'll drink to that. Grab them now for just $20.
---
AM Lab MIST gets rid of the schmutz that builds up on any phone or screen and brings back that vibrant shine. The all-in-one MIST screen cleaner has a wrap-around microfiber cloth that clears away dirt, dust, smudges, and fingerprints. It is also refillable and comes in a variety of colors. Snag a MIST now for just $8 
with promo code GIZMODO333. Offer expires 11/28 11:59PM EST.
---
Replace your current wall charger with Bump then you take it with you wherever you're going. Bump is a 3350 mAh powerbank, providing up to 1.5x extra charge for your phone along with a status indicator so you know how much is battery life is left. Save 30% with code BFCM35 and get it for $35.
---
The Promotions team (we're on the business side, not editorial) negotiates discounts on notable products and services and Gizmodo receives revenue if these products and services are purchased. If you're interested in partnering, have questions or comments, drop us a line at promotions@gizmodomedia.com