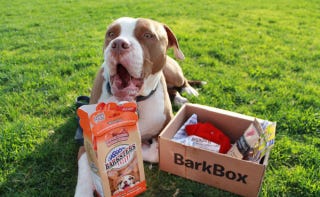 It really is better to give than to receive. That truth is never more evident than when your dog is the recipient of BarkBox. Sure, a subscription for your dog may sound over the top, but with the gift of BarkBox your dog gets recurring hours of priceless entertainment and lands you quality time with your best friend, all without any hassle. Start your subscription now and get a free month added to your plan.
When you sign up, select your dog's weight (to ensure size-appropriate toys and treats), then your subscription length. Choose from the 3-month plan at $24/box; the 6-month plan at $21/box; or the yearly plan for $18/box. If your dog has allergies or is a heavy chewer, owners may opt-in for customized boxes by writing to the BarkHappy team (customer service) at happy@barkbox.com.
Then, every month around the 15th, a new themed box is delivered to your door with 4-6 treats, toys, and other surprise goodies. When the box arrives, prepare for your dog's obligatory freak out and thank you:
While you and your dog hang-out and discover new toys and treats each month, 10% of BarkBox revenue is being given to local rescues and shelters across the U.S. and Canada to help dogs awaiting a permanent home.
Start your subscription now and get a free month added to your plan. Keep your dog happy and entertained while helping improve shelters across the country. The free box is added at the point of checkout and is not available with one month plans.
Give Your Dog BarkBox Treats & Get a $29 Month Free (Shelters Get 10%)
---
The Promotions team (we're on the business side, not editorial) negotiates special offers on notable products. Interested in partnering with us? Drop us a line at promotions@gawker.com.