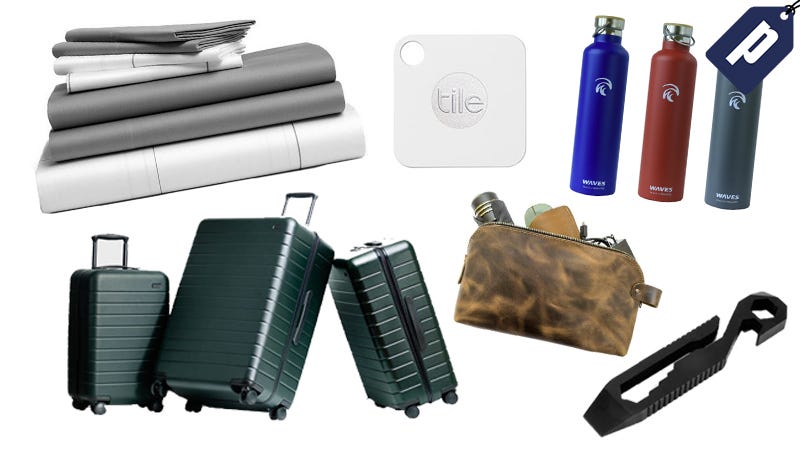 Nevermind the flashy or gimmicky gifts, be the unsung hero with a present that makes it into someone's daily rotation for years to come. And do it all while saving up to 55%.
---
Brooklinen combines high quality yarn (the strength and airiness of single-ply, long-staple cotton) and smooth percale weaving to make a strong, crisp and ultra-breathable sheet. The classic hardcore bundle includes 1 flat sheet, 1 fitted sheet, 1 duvet cover, and 4 pillow cases. Free scented candles are included in the first 1,000 orders. All codes auto- applied at checkout. 10% off $250, 15% off $350, 20% off $450.

---
Never lose your phone or wallet again with Tile Mate — a tracking device that attaches to virtually anything — bike, laptop, camera, wallet. When something goes missing, you can see where it is on the Tile App on your smartphone. There's zero upkeep — no battery replacement or charging necessary for a full year. See the full specs here.
---
With the dual pane stainless steel construction, the Forever Cold holds 34 oz of fluid while keeping drinks cold for a full 24 hours, or hot for 12 hours. It has a 1.75 inch opening making it incredibly easy to fill with ice cubes and the stainless steel, top-plated bamboo cap . Use promo code FC-holiday55 and get yours for just $18.
---
This little guy packs ridiculous amount of function into a handheld form: its sleek, stainless steel profile incorporates more than 11 tools-in-one, including a bottle opener, pocket clip, flathead screwdriver, scoring tool, pry tool, ¼" bit driver, and 5 hex wrench sizes. Anyone will be able to get use out of the Griffin Pocket Tool.
---
Away believes your suitcase should be more than carry clothes. Made with polycarbonate that bends to pressure without breaking these suitcases offer include a built-in laundry bag, plus two compartments to separate clothes and hard objects for easy organization. The carry-ons feature a 10,000 mAh battery and two USB plug-ins. Use code AWAYHOLIDAY16 for $20 off.
---
Handmade with 100% full grain leather, the Utility Bag sports durable double stitched seams and a Brooklyn-based YKK zipper for a rustic look. Store a variety of items from tools and office supplies to toiletries and make-up. Available in six styles including Bourbon Brown, Swayze Suede, and Charcoal Black. Utility Bag is just $24.50 with promo code 50BAG.
---
The Promotions team (we're on the business side, not editorial) negotiates discounts on notable products and services and Gizmodo receives revenue if these products and services are purchased. If you're interested in partnering, have questions or comments, drop us a line at promotions@gizmodomedia.com