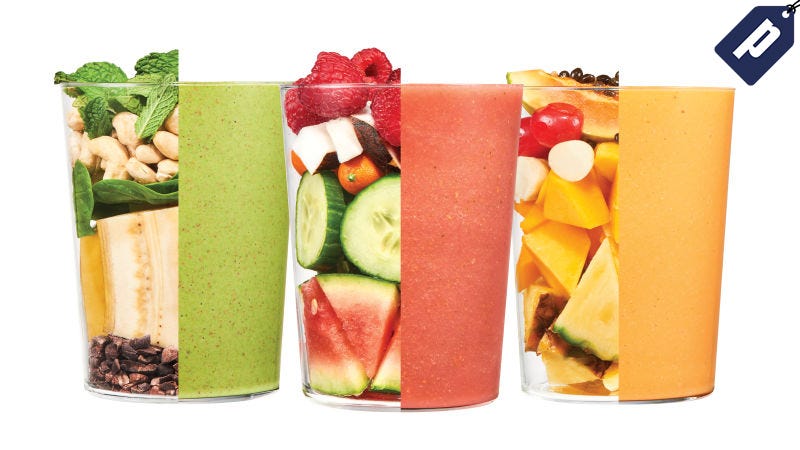 Imagine having an delicious smoothie at your fingertips anytime, without any of the effort. Daily Harvest makes healthy eating easy with 30-second smoothies, delivered in pre-portioned cups right to your door. Just blend and enjoy. No prep, no sweat. Use code GAWKER2 to get two free smoothies with your plan.
Pick from 14 different smoothies like Strawberry Peach Reviver, Watermelon Cucumber Hydrator, Apple Greens Detox, and Cold Brew Almond Energizer. Choose from 6 ($7.99 each) or 12 ($7.49) delivered weekly or 24 ($6.99) delivered monthly.
Smoothie ingredients come pre-portioned in their own cup so after blending you can simply pour the 16oz smoothie right back in. All of them can be mixed with water but come with a recommended base (not included) like almond milk or coconut water.
Every Daily Harvest recipe is crafted by a nutritionist and Michelin-trained chef to achieve the optimal balance of taste and healthy nutrients. The fruits and veggies are frozen on site where they're picked, preserving more nutritional value than fresh produce that's been off the vine for three days. Plus there are no added sugars or refined ingredients, making for a great whole food snack or meal replacement.
No shopping, prep, or fancy blender required. Just store the Daily Harvest smoothies in your freezer and have one ready in 30-seconds whenever you like. Use promo code GAWKER2 and get two free smoothies with any plan plus free shipping.
---
The Promotions team (we're on the business side, not editorial) negotiates discounts on notable products and services. If you're interested in partnering, have questions or comments, drop us a line at promotions@gawker.com.