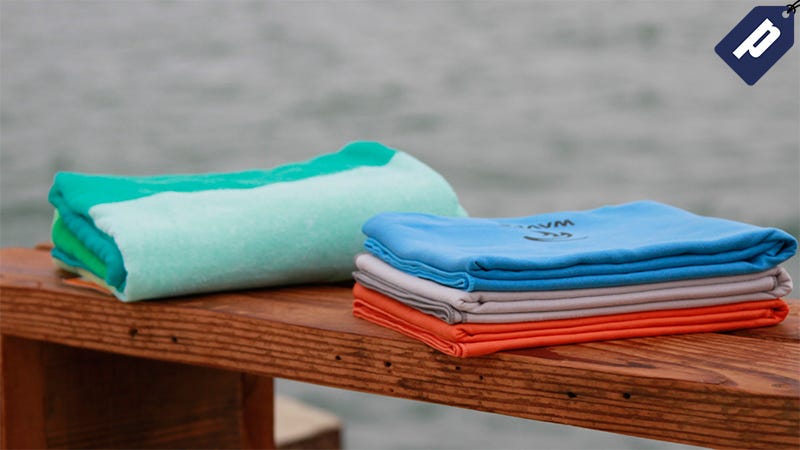 WavesGear is offering Lifehacker readers an exclusive 55% discount on the perfect accessory, their extra-large Micro-fiber towel, now only $13.50. Use promo code MT-HOLIDAY55 on the second page of checkout.

Towels are an obvious necessity, but this extra-large micro-fiber towel is particularly versatile, offering more functionality than the everyday cotton towel. Specifically, the innovative towel dries twice as fast and takes up 78% less space compared to a cotton towel, all while covering more surface area and easily fitting in your gym bag, backpack, or carry-on.
Whether you're a casual sunbather or a triathlete, the towel is great for any location or activity - the pool, beach, park, gym, yoga, hiking, camping, or traveling. It gets the job done efficiently, never taking up space or staying dingy and wet.

Choose either the extra-large (36"x60") or regular (27.5"x55") for just $13.50. Both sizes are available in blue, grey, orange, berry, green, and yellow as well as packs of three ($33.75), or six ($63). Get yourself the most versatile towel and enjoy the perfect accessory for your new endeavors. Use promo code MT-HOLIDAY55 on the second page of checkout. Order by 12/21 at noon EST to receive by 12/24.
---
The Promotions team (we're on the business side, not editorial) negotiates discounts on notable products and services and Gizmodo receives revenue if these products and services are purchased. If you're interested in partnering, have questions or comments, drop us a line at promotions@gizmodomedia.com