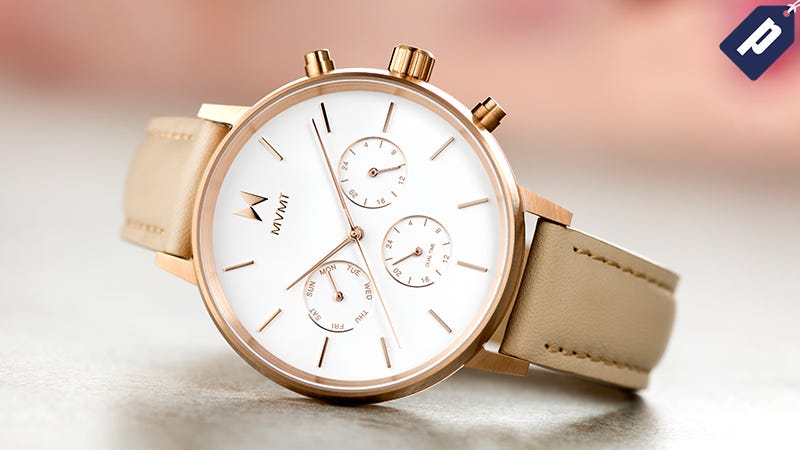 Reward your wrist with a minimalist timepiece from MVMT Watches that will never go out of style. Knock an extra $15 off and buy a watch from their women's line for as low as $100, plus free shipping worldwide with code JEZEBEL.

MVMT designs, builds, and sells their watches directly to the consumer, boasting high-quality stainless steel cases and offers both natural leather straps or stainless steel metal bands. Not to mention every watch purchase comes with a 24-month warranty. Select from three different styles including the Signature Series, Boulevard Collection, and the newly released Nova Collection.

MVMT also offers three distinct men's styles: The Classic, The Chrono, The 40 Series, or Voyager Series. Each model comes with a variety of color and strap combinations. With The Classic, you'll receive a 3-hand quartz movement and date function, whereas The Chrono has a 6-hand chronograph movement, a 60 second and 30 minute timer, and a 24 hour hand. Their newest line, The 40 Series fits for a more formal setting and has a smaller watch diameter (40mm) for those who prefer a smaller timepiece.

When it comes to watches that work in any context, simplicity still reigns. Take $15 off a MVMT Watch now with code JEZEBEL.
---
The Promotions team (we're on the business side, not editorial) negotiates discounts on notable products and services and Gizmodo receives revenue if these products and services are purchased. If you're interested in partnering, have questions or comments, drop us a line at promotions@gizmodomedia.com