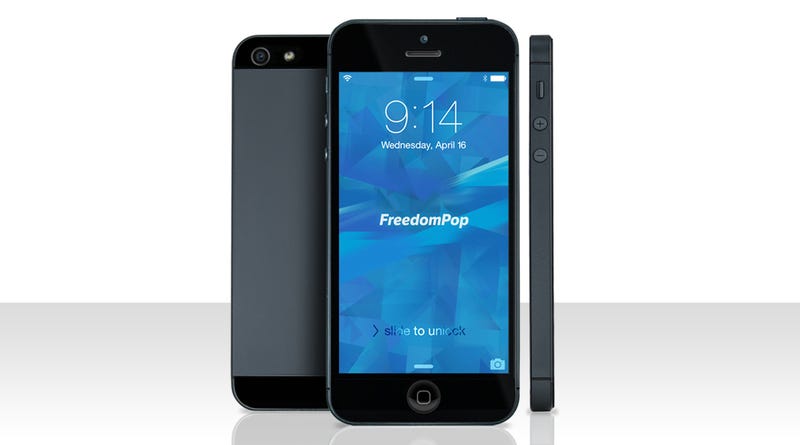 Right now, FreedomPop is offering the iPhone 5 (16gb) and a year of service for $399. This plan will save you up to $1,000 per year in comparison to other carriers, allowing you to say goodbye to the traditional two-year plan and high monthly bills.
Here's what you need to know about FreedomPop and the plan (see the full FAQ here):
You'll be contract free, may cancel anytime, and there's a 30-day money back guarantee.
The plan includes 200 voice minutes, 500 text messages, and 500 MB of 4G LTE/3G data each month.
This plan comes with a free one-month trial of FreedomPop Premier, a bundle of their most popular services, including data rollover and data compression.
A data connection of wifi, 4G LTE, or 3G is required to receive and send calls and text messages.
With a wifi connection users can call any US number or FreedomPop user from anywhere in the world for free, making for easy travel without roaming charges.
As you approach your monthly data limit (within 100 MB) you have the option to have your service suspended for the remainder of the month once it's reached or pay $.02 per additional MB of data. When minute and text limits are reached, service is suspended. From here you can upgrade to a higher plan.
Calls and Texts must be done through the FreedomPop Messaging App. Just follow the simple instructions on your phone to get active in minutes.
If you're diligent about connecting to wifi and don't regularly stream video from your phone the talk, text, and data allotted should be sufficient. If you do exceed it, paying the extra $0.02 per MB or upgrading your talk or text will still come out far cheaper than a traditional carrier. For the budget-minded, this is a steal. You'll get everything you need at a fraction of the cost, for a full year.
Get the iPhone 5 and a Year of Talk, Text, Data for $399
---
The Promotions team (we're on the business side, not editorial) negotiates special offers on notable products. Interested in partnering with us? Drop us a line at promotions@gawker.com.