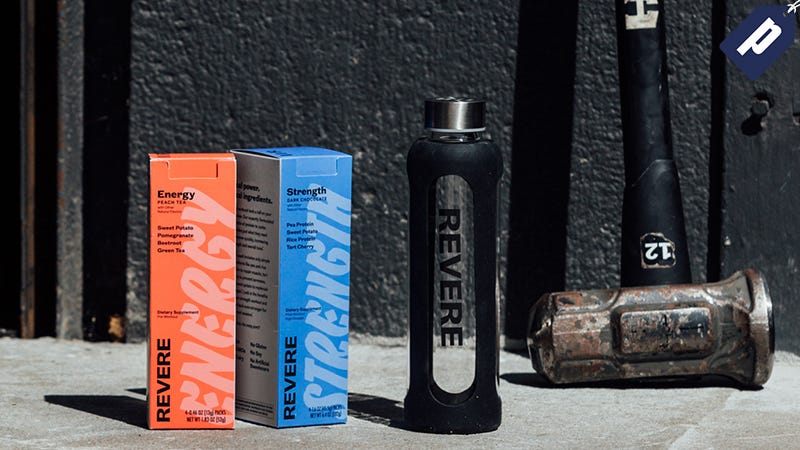 Revere makes simple and natural formulas designed to get you the exact nutrition at the right time so you make the most of your workout. Take their quick quiz to determine your monthly assortment of plant-based packets, delivered to your door each month. Save 50% on your first month with code REVSPIN, plus get a free water bottle.

Instead of pairing sketchy products with bogus marketing around overnight results, Revere joined forces with top professional fitness trainers and a team of PhDs in nutritional and exercise science to create simple workout formulas that not only work, but are also natural and made with safe ingredients. Each formula is plant-based, vegan, gluten-free, dairy-free, soy-free, and non-GMO, with no fillers, artificial sweeteners, or chemicals. Revere has three core powders that can be mixed easily with water:
Pre-Workout Energy (Peach Tea): Powers and sustains your workouts for energy, endurance, and alertness.
Post-Workout Cardio (Vanilla Chai): Replenishes your body to help you get stronger, faster and leaner.
Post-Workout Strength (Dark Chocolate): Decreases your soreness and speeds recovery, while increasing strength and muscle tone.
Each formula is built from plant-based ingredients with clear performance functions, for example:
Beetroot: For Increased Blood Flow And Endurance. These have high levels of nitrate, which converts to nitric oxide, increasing blood flow to your muscles. This means your heart doesn't need to work as hard, so you fatigue less. Beetroot is also full of micro­nutrients, including potassium, betaine, magnesium, and vitamin C.
Plus, readers will receive an environmentally safe (BPA and PVC chemicals) water bottle with each subscription. Subscriptions start at $10 and typically cost $40 - $50, but you get 50% off your first month with code REVSPIN. Adjust or cancel anytime.
---
The Promotions team (we're on the business side, not editorial) negotiates discounts on notable products and services and Gizmodo receives revenue if these products and services are purchased. If you're interested in partnering, have questions or comments, drop us a line at promotions@gizmodomedia.com.