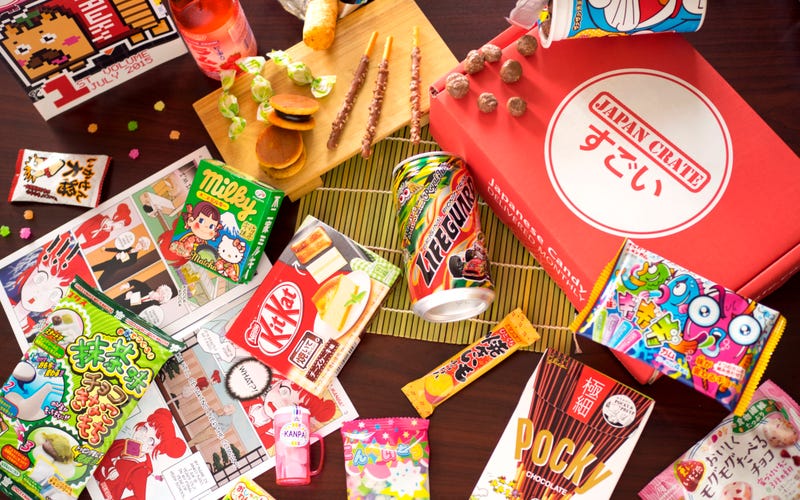 When it comes to brilliant packaging, unique flavors, intricate details, and completely unexpected combinations, Japan's candy reigns supreme. Experience the fun of Japan every month with a hand-picked crate of candy you never knew existed from Japan Crate. Get $3 off your first crate plus a free chocolate DIY kit with promo code kotaku.

Japan Crate's mission is to share the excitement of Japan through candy and snacks delivered to you (see Snacktaku's review). With a crate full of different candy each month, all of which is full size (no miniature, bite-sized candy) and direct from Japan, they bring subscribers a real taste of the culture. Here's how it works:
Choose from the Original Crate (First month $25 now $22): 8-10 items and includes a DIY kit in which you make the candy OR
The Premium Crate (First month $30 now $27): 12-14 items including a DIY kit, a drink, and a revolving bonus item (from collectibles to larger snacks)
Choose from a 1, 3, 6, or 12 month plan
All crates include a custom manga booklet with descriptions and translations
All crates come with free priority shipping and ship the first week of each month (international shipping available for $10-$15)
Sign-up for Japan Crate now and get a taste of delicious Japanese Culture each month. With promo code kotaku, you'll get $3 off your first crate plus a DIY chocolate kit which will ship the first week of March. Offer not valid on the mini crate.

---
The Promotions team (we're on the business side, not editorial) negotiates discounts on notable products and services. If you're interested in partnering, have questions or comments, drop us a line at promotions@gawker.com.