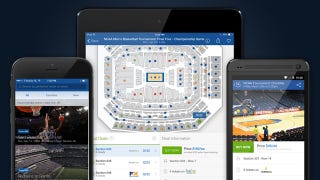 With March Madness set and your brackets filled, all that's left to do is to grab tickets to see your favorite team play. And SeatGeek, the ultimate ticket aggregating site and app, is giving Deadspin readers $20 off their first order, with promo code MM20NOW.
SeatGeek pools the tickets of every trusted ticketing site, from major marketplaces to individual brokers, aggregating them in one place to make comparison shopping easy. Whether you're looking for tickets to the Big Dance, professional sports, concerts, theatre, comedy, or any other live event, you'll find all the deals at SeatGeek. This vast ticket selection, along with immersive maps and their DealScore system, sets SeatGeek apart from any other ticketing site.
SeatGeek's maps zoom down to the exact row where seats are located, letting you know right where you'll be for any event. Meanwhile, DealScore does the tiresome math for you to surface the best deals. By estimating the market value of every ticket, SeatGeek can determine whether the price you're going to pay is fair or not. Big green dots with higher numbers (from 1-100) represent good deals while small red dots with lower numbers mean bad deals, so good deals are easy to spot.
And best of all, SeatGeek is offering $20 back on your first order. Grab your tickets to March Madness (or whatever event you're itching to see) and get $20 off your order. Use promo code MM20NOW (valid for first time customers only).
---
The Promotions team (we're on the business side, not editorial) negotiates special offers on notable products. Interested in partnering with us? Drop us a line at promotions@gawker.com