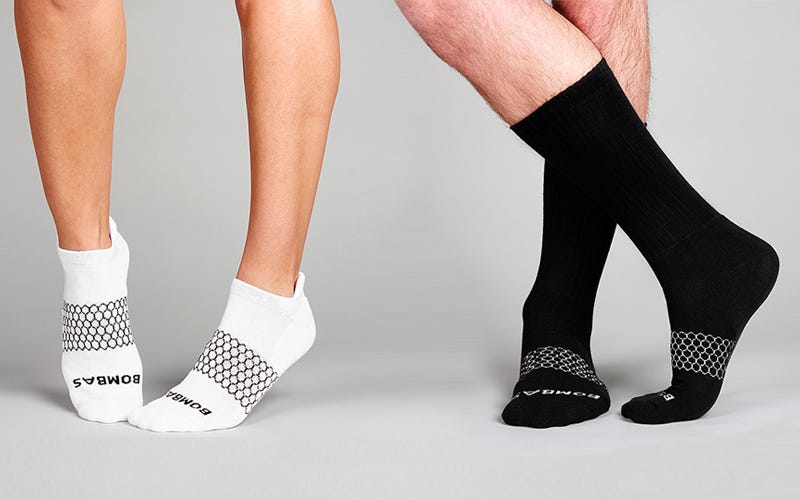 Putting on a good pair of socks not only gets your morning started off on the right foot, but you'll feel comfortable throughout the day. Get 20% off your first Bombas order (any size) and see how easy and worthwhile it is to treat your feet well. Use promo code GPB20.
When the founders learned that socks were the most requested item at homeless shelters the inspiration for Bombas was born. They wanted to create an athletic sock for daily use that offered maximum comfort while helping to get socks on the feet of those in need. They gave athletic socks the make over they were long overdue and built the business around donating a pair of socks for each pair purchased. Here's how they reinvented the sock:
Made of long staple pima cotton that's warm in winter, cool in summer, and moisture wicking
A Y-stitch to naturally cup your heel, honey comb stitching at your arch for additional support and tightness, a hand-sewn toe seam to avoid the typical rigid bump across your toes, and a reinforced footbed

Stay up technology that has the perfect amount of elasticity and tension to keep your socks up without constricting (calf socks only)
A small ankle cushion built where your foot hits the shoe, that acts as a blister tab to prevent chafing (ankle socks only)
With new bright and solid styles, Bombas is always the perfect fit. Get 20% off a pair of calf or ankle socks for just $7.20 a pair. Or grab a four-pack for $28.80. And for every pair you buy, one pair will be donated to homeless shelters nationwide. Use promo code GPB20. Free shipping on orders of two or more pairs. Delivery by Christmas is guaranteed on orders placed by 12/15/15.
---
The Promotions team (we're on the business side, not editorial) negotiates discounts on notable products and services. If you're interested in partnering, have questions or comments, drop us a line at promotions@gawker.com.
Check out Shop to learn about more of our Promotions Partners and their products and services.