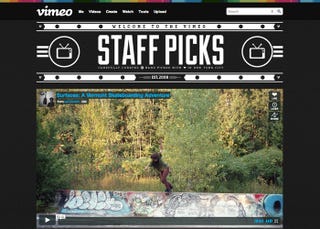 The level of talent — both amateur and professional — found on Vimeo is impressive. Gizmodo readers can sign up now to grab an exclusive 15% discount on Vimeo Plus with code GIZMODO15! Also, read on to learn more about the service and peep this trio of fun videos.
>> Sign up for Vimeo Plus using the code GIZMODO15, and you'll get 15% off your new membership. Or read on for more details!
Get to Know Vimeo Plus
With an infinite number of Groups, Channels, and Albums to tinker with, Vimeo Plus makes it easier than ever to organize your content — whether you're showcasing videos about flesh-eating pianos and surreal museum hallucinations. Uploading woes are a thing of the past with this upgrade too, now that members can upload up to 5GB of 1080p HD quality videos each week. Express conversion means your videos won't have to wait in line either and they'll go live faster. That kind of speed is great for videos, but it also extends to support too, since Plus members get their support questions tackled in under four hours on business days.
As you build an audience with your unique creations, followers will appreciate being able to download their favorites from your film offerings and experience watching your videos ad-free. You also reap those benefits, since as a member, you won't have to watch any ads on the site. Period.
Attracting new viewers is a cinch too, since Vimeo Plus lets you customize your embedded video player with your choice of color schemes and configurations. What's really awesome is you also get total control over where your videos can and can't appear online with advanced domain-level privacy.
See What Creators Are Making with Vimeo Plus
All of that might sound great, but the real excitement comes from seeing just what members can do with their Vimeo Plus memberships. Remember those videos we mentioned? Yeah, here you go:
A unique style of shooting and editing makes Matty Brown's stand out in ways that are at times sublime and haunting. In this jaw-dropping, Emmy-nominated short "The Piano," he wields his style to evoke an atmosphere that's both sensual and horrifying.
Greg Barth's surreal filmmaking adventures favor oddball situations and crazy sets. His thought-provoking projects are real head-scratchers — but in a good way. This brilliantly bizarre video he created for Passion Pit's "I'll Be Alright" gets more intense by the minute.
StoryCorps is known for its moving audio documentaries of extraordinary personal stories told by everyday people that often evoke strong emotions. In this short but impactful piece titled "Germans in the Woods," a gentlemen recalls a moment from World War II that haunted him for much of his life.
If those videos didn't spark your inspiration, we can't imagine what will! Feeling primed to get in on the video making action?
>> Sign up for Vimeo Plus using the code GIZMODO15, and you'll get 15% off your new membership.
Other important details: the offer applies to first-time Vimeo paid members only and is only valid for the Vimeo Plus annual membership. The offer expires 11/30, so don't dally. There's a limit of one discount per customer. This cannot be combined with other offers, is not transferable, cannot be exchanged for cash or any equivalent, and is void where prohibited.