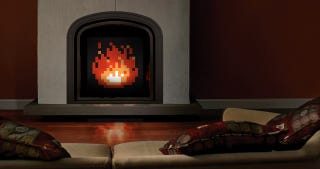 Turn back time with James Bit video game art for your home and give a nod to some of the classic video games that played a role in your childhood. James Bit Design is offering a storewide, exclusive 10% discount using promo code GAWKER. Below are four of our favorites, but you can see them all at James Bit Design.
Zelda Secret Passage Floor Decal: $30 now $27
Add a secret passage to your home with this vinyl slip and scuff resistant decal. They work best on clean, hard surfaces and can be easily removed from your floor without leaving adhesive residue. Measures 18x18 inches.
---
8-Bit Zelda FirePlace: Large $100 now $90; Small $50 now $45
Have a non-working fireplace? Put the space to use with this custom artwork that is made using high-quality archival inks, printed on to museum quality canvases, and stretched over a sturdy wooden frame. Available in original red, blue, trippy, and pink lemonade (pictured below). The large is available in two sizes 20x24 and 24x24, while the small is 11x14 or 12x12. Custom sizes also available.
---
8-Bit Tecmo Football Tee: $25 now $22.50
Get a vintage design on a vintage feeling tee-shirt with this soft but durable American Apparel tri-blend tee-shirt featuring the classic Tecmo Bowl football helmet.
---
Tron Identity Disc Frisbee: $23 now $20.70
Take your games of ultimate frisbee to the next level with this Tron-inspired disk. The Identity disk is regulation weight, 175 grams.
---
Add a unique look and feel to your home with custom artwork from James Bit Design. And get an exclusive 10% off while bringing some of your favorite classic games back to life. Use promo code GAWKER.
Get 10% Off Video Game Art: 8-Bit Fireplace, Zelda Floor Decal & More
---
The Promotions team (we're on the business side, not editorial) negotiates special offers on notable products. Interested in partnering with us? Drop us a line at promotions@gawker.com.