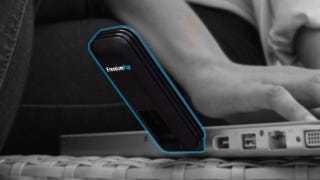 Using only a USB port, you can get secure 4G Internet connectivity with the Freedom Stick Bolt. For $19.99, Lifehacker readers can enjoy 500MBs of Free High Speed Wireless each month. It's the perfect mobile option to keep you connected when you aren't at home or at the office, anywhere in their 4G network.
The Freedom Stick Bolt is a small plug and play device that will bring you online simply by plugging in. There are no cables required or charging required; it's as simple as sticking the device into your USB port. The Stick Bolt provides fast and secure broadband connectivity with speeds of up to 12Mbps, and can go with you wherever you are.
FreedomPop is a Gizmodo favorite; they have consistently given them shout outs for offering the first free wireless plan and a home-based hub with 4G speeds and data too. The ease of use for the Bolt should make this newer offering quite appealing, especially because the data plan on the Bolt is pay-as-you-go, meaning that you will never have to worry about a fixed rate that doesn't reflect your usage behavior.
The Freedom Stick Bolt itself is typically $50 MSRP. A 2GB high speed data plan is $17.99. And shipping? Well, you would normally pay depending on your physical location. However, FreedomPop is offering Lifehacker readers the whole package for $19.99 (and yes, that includes free shipping). Subsequent months of 2GB of data cost $18, yet you can drop down to 500MB at will and pay absolutely nothing; the 500MB basic plan is completely free. FreedomPop also has a generous affiliate program that offers 50MB for every friend you refer and for participating in various programs, similar to the way Dropbox allows you to increase your storage permanently at no charge.
If you're looking for a portable way to get connected with your primary device, the Freedom Stick Bolt would be a great choice, and the low price makes it even more attractive. Try it out and let us know what you think.