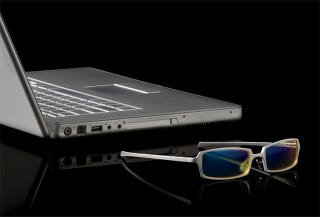 Looking for a sweet pair of tech-minded specs? Gunnar Optiks offers stylish computer and gaming eyewear that also helps reduce eye strain. They're an excellent choice for those in a serious work or gaming session who don't want the headaches and eye fatigue. For a limited time, Gizmodo readers will be getting 20% off.
Available off the shelf for those with 20/20 vision or in prescription lenses* as administered by Carl Zeiss Vision, Gunnar Optiks is built with the mindset giving your eyeballs a complete upgrade. Not only does wearing these glasses improve visual endurance for any type of computer or gaming use, they are specifically engineered to reduce digital eye strain while improving contrast, comfort, and focus. (And for designers specifically, Gunnars offers a specialized crystalline lens to further improve your focus and visibility.) For a limited time, Gizmodo readers can get a 20% discount off all products. Gunnar says you should see the difference within two weeks, and to sweeten the deal, you'll get a 30 day money back guarantee.
Wearers of Gunnar Optiks glasses swear by them. You'll never have to take breaks between heavy coding, work or gaming sessions—or even those longer than ever social networking chat sessions. Former Gizmodo editor Jason Chen loves his pair of Gunnars. Very much.
Gunnars look pretty awesome, they're lightweight (and amazingly comfortable), and they make for a rich visual experience. We can imagine they'll also get you a great deal of compliments too wherever you go with them. (Google Glass has nothing on Gunnars!)
Available in 18 styles, Gunnar eyewear combines style and function. The lenses are made using a patented technology that ensure for the utmost in eye comfort: with Gunnar Optiks glasses, you can (possibly) literally game or work for days on end without dry eyes and with clear vision throughout. The lenses are built to filter out harsh artificial light and glare, making sure you remain focused on what's in front of you on the screen—no matter where you go.
Oh, and if you missed it, you can even get these awesome looking computer and gaming specs in prescription lenses* so glasses-wearers won't miss out.
* Gunnar Optiks lenses are covered by most standard VSP insurance plans.