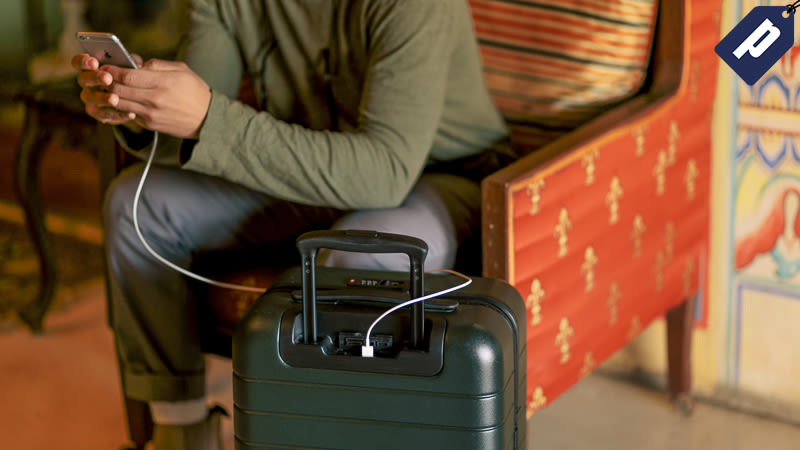 Away developed their line of luggage based on real travel experience and the idea that your suitcase should feel like your home away from home. Take $20 off any suitcase and let Away help with your holiday travels with sleek luggage that does more than just carry clothes. Use promo code GIZMODO2017. Promo expires 12.31.17

Away works on a direct-to-consumer model, offering prices well below the mark-ups of premium brands. The five sizes include, The Carry-On $225; The Bigger Carry-On $245; The Medium $275; The Large $295, and The Kids' Carry-On $195. Each size features thoughtful design that separates Away from the luggage you're accustomed to:
All carry-ons feature a 10,000 mAh battery and two USB plug-ins.

The shell is made of German polycarbonate that bends to pressure without breaking.
The zippers slot into a TSA-approved combination lock so you can always find them and keep your belongings secure.
There's a built-in laundry bag, plus two compartments to separate clothes and hard objects, like shoes and toiletries, for easy organization.
The carry-ons nest into the medium, and the medium nests into the large to save you space when you're not traveling.
Each bag comes with a lifetime warranty and 100-day trial, so you can gift with confidence.
Take $20 off the luggage you deserve and travel comfortably. Use promo code GIZMODO2017. Promo expires 12.31.2017. Free shipping in the contiguous U.S.
---
The Promotions team (we're on the business side, not editorial) negotiates discounts on notable products and services and Gizmodo receives revenue if these products and services are purchased. If you're interested in partnering, have questions or comments, drop us a line at promotions@gizmodomedia.com