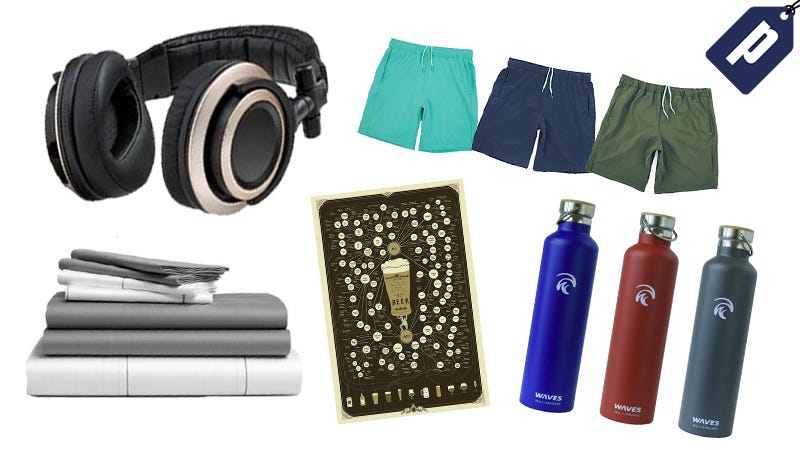 The idea of Small business Saturday was made up by a credit card company so it's definitely a sham. But that doesn't mean you can't appreciate the generally very real and good idea of supporting small businesses any day of the year. So, here's a few of our favorites where you can save up to 55%.

---
Status Audio puts sound quality over flashy looks or gimmicky marketing. The CB-1s, their closed-back headphones, are designed for audio engineers who need total clarity, but you don't need to be in the studio to enjoy them. They come complete with ergonomic ear-pads and two detachable cables (coiled and straight) that twist lock. Save 20% with code AUDIOPHILE and get yours for $63 plus shipping.
---
When Huckberry and Taylor Stitch teamed up to create the ideal gym short, both of them were blown away by the reception. Two years later, the Everyday Short is still our go-to short for its exceptional versatility. Lightweight stretch fabric, water-repellent finish, trim silhouette — they're a gym/beach/city hybrid short that can keep up with the most spontaneous of schedules. Save 20% and get your pair for $47.
---
Bring clean energy to your home and receive $20 off your next energy bill with Arcadia Power. Each month they match 50% of your energy bill with clean energy credits completely free. Or, for a few bucks, you can go 100% clean. When you sign up, Arcadia Power receives your local utility bill, and adds your clean energy matches to it for in a single, consolidated bill.
---
With the dual pane stainless steel construction, the Forever Cold keeps drinks cold for a full 24 hours, or hot for 12 hours. Available in either 25oz or 34oz sizes, it has a 1.75 inch opening making it incredibly easy to fill with ice cubes and the stainless steel, top-plated bamboo cap. Use promo code FC-holiday55 and get yours for just $18.
---
Pop Chart Lab blends art and data into intricate mappings of everything culturally relevant. From food and drinks to sports, music, and fashion, Pop Chart Lab turns raw data into beautiful designs of fun, useful information. Get 20% off site-wide with promo code 20ForTurkey.
---
Brooklinen combines high quality yarn (the strength and airiness of single-ply, long-staple cotton) and smooth percale weaving to make a strong, crisp and ultra-breathable sheet. The classic hardcore bundle includes 1 flat sheet, 1 fitted sheet, 1 duvet cover, and 4 pillow cases. Free scented candles are included in the first 1,000 orders. All codes auto- applied at checkout. 10% off $250, 15% off $350, 20% off $450.

---
The Promotions team (we're on the business side, not editorial) negotiates discounts on notable products and services and Gizmodo receives revenue if these products and services are purchased. If you're interested in partnering, have questions or comments, drop us a line at promotions@gizmodomedia.com