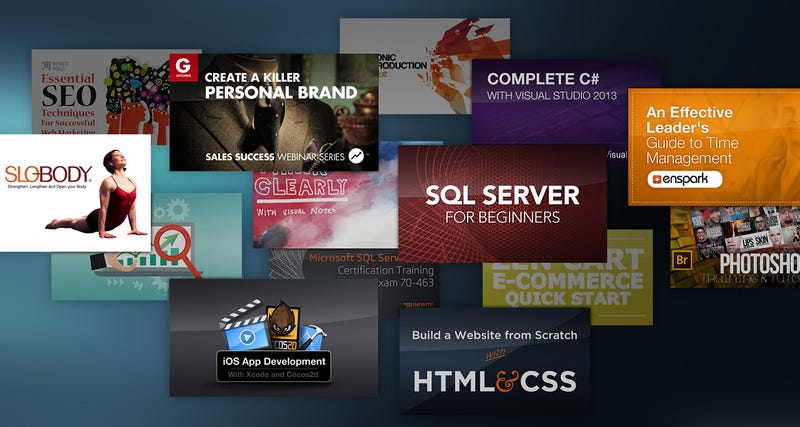 Get 75% off more than 300 courses with Udemy, one of the largest marketplaces for teaching and learning. Udemy features over 10,000 expert instructors in courses ranging from psychology to nutrition to web development, and all are on-demand and available 24/7 via phone, tablet, or web. Use coupon code LEARNTODAY-75.
Courses at Udemy help to foster new skills for a career change or a growing interest, or to simply refine and improve existing talents. Highlighted below are four courses, but you can find hundreds of others at 75% off using code LEARNTODAY-75.
Body Language for Entrepreneurs - $150 now $49
This course teaches the oft-forgotten skill of nonverbal body language, perfect for those in business, sales, speaking, or anyone interested in boosting their social presence. Course highlights include:
The foundations of body language: why it matters and reading the face and body.
Customer relations, your nonverbal brand, networking, and elevator pitches.
High pressure business situations including public speaking, negotiating, fundraiser and investment pitching.
Mastering Adobe Photoshop CC - $75 now $24
Whether you're a beginner diving into Adobe Photoshop for the first time or a veteran designer or photographer looking to brush up and add some new skills to your repertoire, this course delivers. Course highlights include:
Learn the best preference settings, synchronization, time saving shortcuts, panel organization, and navigation.
Create and manage colors in images, utilize layers, and work with filters.
Learn the ins-and-outs of dodge and burn, the magic wand, brushes, cloning and healing, and Type.
Become a Web Developer from Scratch - $199 now $49
This course is for anyone who's wanted to learn web development but didn't know where to begin. Whether you have basic knowledge and experience in programming or none at all, this course instills confidence in a wide variety of languages and applications. Course highlights include:
Basics: Covering HTML, XHTML, CSS, and Javascript
Backend Development: Covering PHP, MySQL, XML, and jSON
FrontEnd Development: Covering AJAX, jQuery, HTML5, CSS3
Final projects to apply what you've learned with the source code available for download
Learn Speed Reading & Advanced Memory - $199 now $49
This course is for anyone who is trying to navigate the ever-increasing amount of information we are hit with on a daily basis. You'll improve your ability to learn new skills and retain information quickly and efficiently. Course highlights include:
Speed reading with 80% comprehension and understanding which includes pre-reading and preparation.
Memory techniques for storing and recalling vast amounts of information quickly and accurately.
Develop the cognitive infrastructure to support this flood of info for the long-term.
Want to see all the courses? Click to enroll in hundreds of other courses at 75% off using code LEARNTODAY-75.
Terms and Conditions: Coupon code is not valid with any other promotional offer or discount and is valid until 10/01/14 11:59 PDT. One coupon code use only per purchase. Coupon code requires a Udemy account, and is subject to terms and conditions found here. Udemy reserves the right to cancel the coupon code at any time. Coupon code is not exchangeable for cash. Coupon code is not valid with purchases made on the Udemy iPhone, iPad or Android app. Some courses do not apply. If you return your purchase, you will be refunded the amount paid. Offer good while supplies last.
---
The Promotions team (we're on the business side, not editorial) negotiates special offers on notable products. Interested in partnering with us? Drop us a line at promotions@gawker.com.