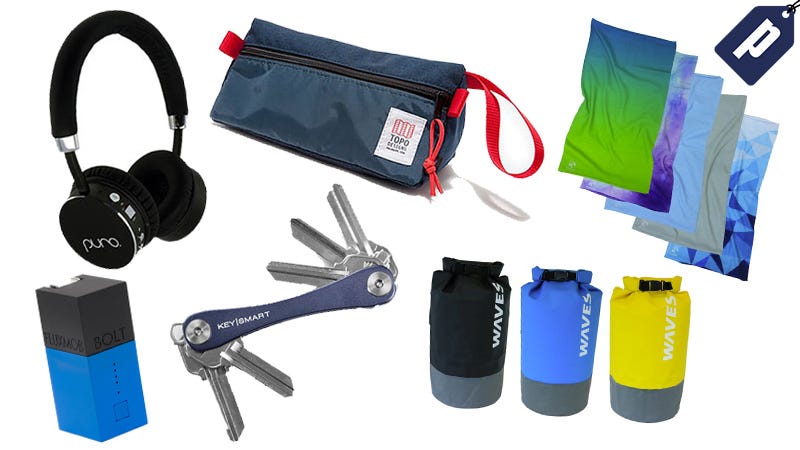 Give the gift of more efficient and comfortable travel and help those in your life avoid the pain of disorganized uneasiness on the road. Plus you'll save up to 55% with these invaluable gifts.
---
Bolt from Fluxmob is the pocket-sized wall charger and backup battery that charges on the wall and on-the-go. Plug Bolt directly into an outlet, or use as an external battery. Bolt charges anything with USB connection including iPhones, Androids, Cameras, and Bluetooth devices. Grab Bolt for just $40 with code GWKBF2016.
---
The BT-5200 Bluetooth Headphones from Puro Sound Labs highlight the combination of sound clarity and ambient noise reduction while maintaining healthy hearing, not impeding it. Get an exclusive 50% off with promo code PUROHOLIDAY. That's just $75, plus free shipping. Code expires 12/1
---
Say goodbye to toiletries in plastic bags. Topo's Dopp Kit is triangular-shaped allows it to sit upright on small hotel shelves and provides easy access to everything you need. The size is small enough for the travel light crowd, but roomy enough to hold all you'd need to stay looking good on the road. Grab one now for just $29.
---
This Infinite Dry Bag from WavesGear ensure your gear stays dry and protected whether you're on a boat, caught in the rain, or just having a casual beach day. The Infinite Dry Bag should be your companion for every outdoor setting. Grab it now for just $15 using promo code IDB-HOLIDAY55.
---
The KeySmart Organizer lets you attach up to 14 keys includes a loop to latch on your car fob as needed. Slim and lightweight, it is perfect for ditching that bulky key ring and comes in both blue and gold. Normally $28, readers can get one now for just $21.
---
These three charging cables from Nomad are built from military-grade materials like Kevlar and ballistic nylon for abrasion and tear resistance. Choose from the lightning cable, 3-in-1 universal cable, and battery cable that inherit the latest charging and material technology. Grab one now for as low as $21, just enter your email to access their Black Friday pricing. Valid 11.24-11.28.
---
The UPF50+ Sun Mask from WavesGear protects your head, neck, face, and ears from UV rays and biting wind. With a multi-functional design, the Sun Mask allows you to adjust the fit and function whether your skiing in the mountains or hiking in the forest. Grab one now for just $11 using code SM-HOLIDAY40.
---
The Promotions team (we're on the business side, not editorial) negotiates discounts on notable products and services and Gizmodo receives revenue if these products and services are purchased. If you're interested in partnering, have questions or comments, drop us a line at promotions@gizmodomedia.com