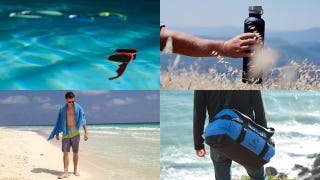 Regardless of the temperature outside, Spring is not far away, so WavesGear is offering a site-wide 50% discount to get you stocked up on innovative warm weather essentials. Get quick-dry micro-fiber towels, 34 oz water bottles, floating sunglasses, and utility duffel bags, all 50% off with promo code LH50-SiteWide.
Extra-Large Micro-Fiber Towel: $30 now $15
These towels offer more functionality than the everyday cotton towel. Specifically, the innovative towel dries twice as fast and takes up 78% less space compared to a cotton towel, all while covering more surface area and easily fitting in your gym bag, backpack, or carry-on.
The Forever Cold Water Bottle: $39 now $19.50
This bottle does more than just hold a hefty 34 oz of fluid. With dual pane stainless steal construction, it keeps drinks cold for a full 24 hours, or hot for 12 hours. It has a 1.75 inch opening making it incredibly easy to fill with ice cubes. And the top-plated bamboo cap offers a refined but simple look.
Polarized Floating Sunglasses: $40 now $20
These are the ideal sunglasses for water sports, but they're equally useful relaxing at the beach or pool, or tubin' down a river. They're polarized, made from unsinkable plastic, and are both light-weight and durable. Choose from black, tortoise, and navy.
Utility Duffle Bags: $80 now $40
These duffles are perfect for a weekend getaway, the gym, or something a little more intense like rafting, climbing, or sailing. Made of 500D PVC mesh, this bag is water resistant, durable, and dust, stain, and odor proof. Choose from black, blue, and yellow.
WavesGear doesn't want to leave you out in the cold, so they're offering 50% off their entire store to get you ready for longer, warmer days. Use promo code LH50-SiteWide
---
The Promotions team (we're on the business side, not editorial) negotiates special offers on notable products. Interested in partnering with us? Drop us a line at promotions@gawker.com.