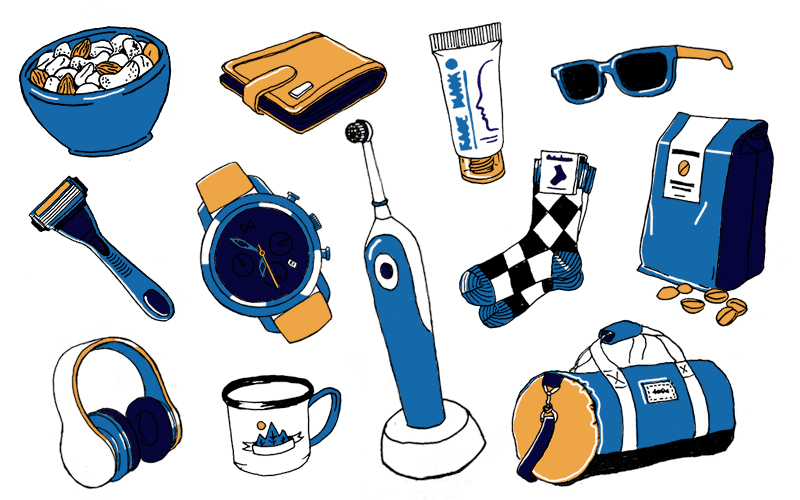 We've rounded up some of our favorite gifts that would most certainly be more than $100, but thanks to steep discounts, all fall below that mark. From serious apparel like dress shirts and pullovers to watches and drones, there's something for everyone with savings of up to 65%.
---
The Sequoia Zip from Rhone is a go-to layer for any workout. Featuring power-dry technology, the Sequoia wicks sweat, sheds moisture, and helps maintain a perfect core temperature. Plus, Rhone included a back-stash pocket and thumb holes. Choose from navy, gray, or black. Get 20% off now with promo code GAWKERTIME. Offer expires 12/3/15.
---
Make smart choices with the BACtrack Mobile Breathalyzer. Easily connecting to an iPhone or Android device via Bluetooth, BACtrack quickly estimates both blood alcohol content (BAC) and when it will return to 0.00%. Input and save BAC results to easily monitor consumption. Get BACtrack from now at 60% off.
---
Ministry of Supply is menswear that performs with the body while still looking sharp. With promo code 15gawker, Ministry of Supply is offering 15% off your first purchase, including the Archive Dress shirt for $92. This moisture wicking and wrinkle resistant woven shirt comes in eight styles of slim and standard cuts. Get 15% off your first purchase site-wide with Ministry of Supply. Offer expires 11/30.
---
Mouth brings you the best indie foods and small batch alcohol from makers around the world. Think everything ranging from baked goods, candy, cheese,pickles, salami, jams & jelly, to gin, whiskey, coffee, hot chocolate, wine, and other favorites and rarities. What you can't find at your local store you can find at Mouth. Spend $100 or more and get $25 off with promo code Gawker.
---
The Code Black Drone is not only powerful, but extremely fun to fly. This palm-sized drone captures serious video footage from a built in HD camera, with a flight time of up to 10 minutes. The Code Black drone is ready to fly right out of the box and is perfect for beginner or expert flyers. Snag a Code Black Drone now at over 67% off.
---
Sit down and take a load off with two camp chairs and two enamel mugs from Kawartha. The ultimate campfire set is perfect for any outdoorsmen, packed with one river green and cream colored mug, along with one grey and one blue chair. Grab the four piece set from Kawartha at 50% off with promo code BFCM-CF. Code expires 12/3/15.
---
Wine Awesomeness is the service delivering new wine experiences curated around a unique theme. Each box is filled with bottles that you don't typically find everyday, perfect for treating those taste buds. Choose from a three pack of all white, all red, or mix, each $54 (includes $15 S&H). Get over 10% off a box with WA now.
---
Status Audio's brand new HD two headphones deliver the perfect sonic experience with a combination of luxury and utility. The HD Two headphones offer full enclosure of the ear for extreme comfort and noise isolation and come in a hardshell case. Use promo code HDTWO20PERCENT to grab a pair from Status Audio for 20% off, shipping included.
---
The Commuter Duffel from Hudson Sutler makes traveling anywhere a breeze. This 18oz heavy duty canvas bag is perfect for those 1-2 day trips, with multiple pockets to keep smaller items in reach. The quick grab end strap makes for easy on-the-go use, and the thick rust proof zipper prevents those stuck zipper moments. Get 15% off site-wide with code GawkerGram. Offer expires 11/30/15.
---
Denser than solid uranium, the Forge Solid Cube is 95% pure tungsten and is a perfect distraction. Great on any desk or coffee table, the small, 1-inch Forge Tungsten Cube's weight is incredibly deceptive as it's made from one of the densest metals in the world. Grab the Forge Tungsten Cube now at 60% off.
---
MVMT Watches are stylish but minimal, fitting any situation without the hefty price tag. Designed and built in-house, MVMT Watches come with 45mm stainless steel plated cases and natural leather straps or stainless steel metal bands. Choose from classic and chrono styles, as well as The 40 Series. Get 15% off site-wide plus a 2 year warranty now. Expires 11/30/15.
---
Snag high quality handmade jeans from Mott & Bow, the online retailer that ensures the perfect fit. Select two sizes in each order and return whichever doesn't fit for free. Choose from skinny, slim, and straight fit jeans, all of which come in different styles (fabrics and combinations). Save an exclusive 25% on your first order with promo code LIFE25MOTT.
---
WavesGear has created floating sunglasses that are not only polarized, but also reflective. These shades are ideal for the beach or pool, tubing down a river, or day-to-day in the city. The three-pack includes glasses in black, white, and grey, each lens sporting a reflective coating. Grab this three pack of WavesGear shades at 55% off with promo code BFCM-FS. Code expires 12/3/15.
---
The Promotions team (we're on the business side, not editorial) negotiates discounts on notable products and services. If you're interested in partnering, have questions or comments, drop us a line at promotions@gawker.com.
Check out Shop to learn about more of our Promotions Partners and their products and services.