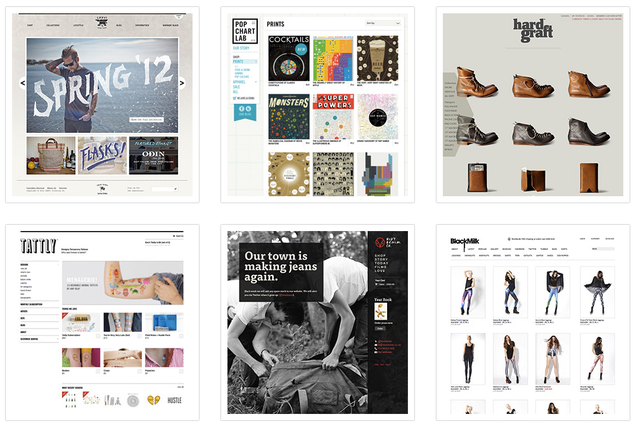 Here are 16 shops to get your ecommerce brain churning. Each shop is powered by Shopify, a platform for easy ecommerce. Check out the shops and you can also get an exclusive 25% off when you open your own online shop with Shopify.
>> Click to get a 25% lifetime discount when you set up a Shopify store
1. The Critical Slide Society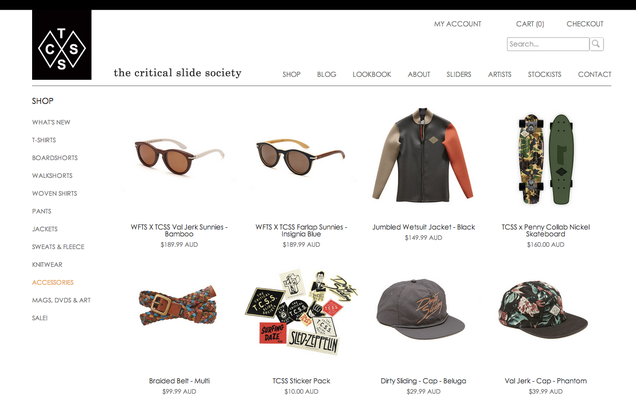 The Critical Slide Society started as a small beach house but has grown to several retailers worldwide and a Shopify-powered ecommerce store. TCCS is a carefully selected mix of surf gear and apparel with an Aussie feel. They've also mixed in a Lookbook with surf photography to bring the stock to life.
2. Tinkering Monkey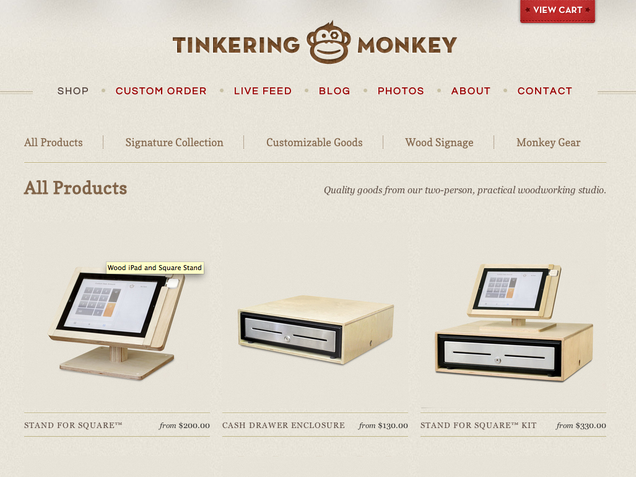 Tinkering Monkey is the online storefront of a creative wooodworking shop in the Bay Area. They've manufactured signs and lamps and novelties but are now creating a new market with wood cashbox stands for iPads running Square Register.
3. Cool Material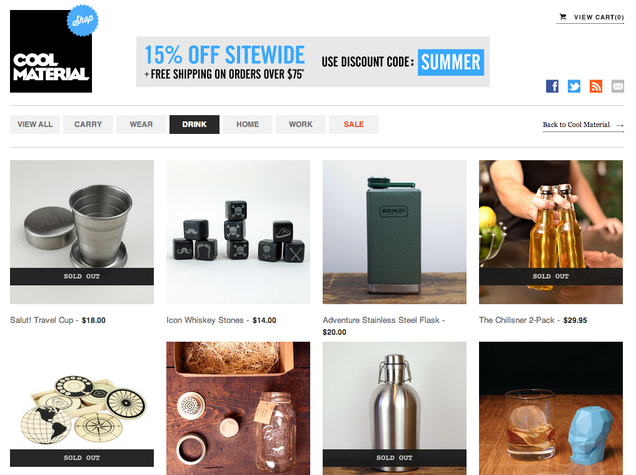 Cool Material is an online purveyor of geek gadgets and lifestyle odds and ends. They've integrated social media well (check out this notebook with 3,000 likes) and now over 100,000 people are keeping up with them on Facebook.
4. Chalkd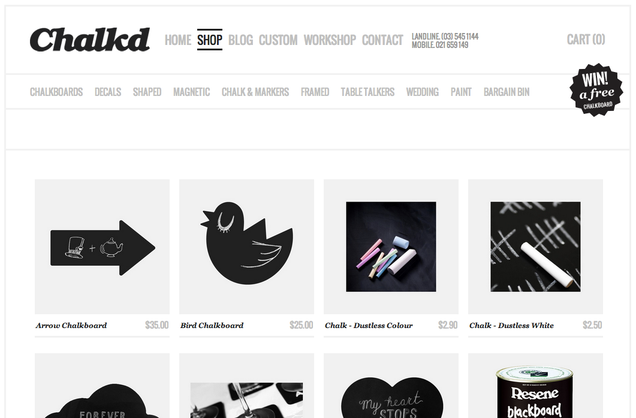 Chalkd is a New Zealand-based purveyor of whimsical and custom chalkboards. The black and white product imagery looks great in a minimalist template. Chalkboards: They're not just for school anymore!
5. Tattly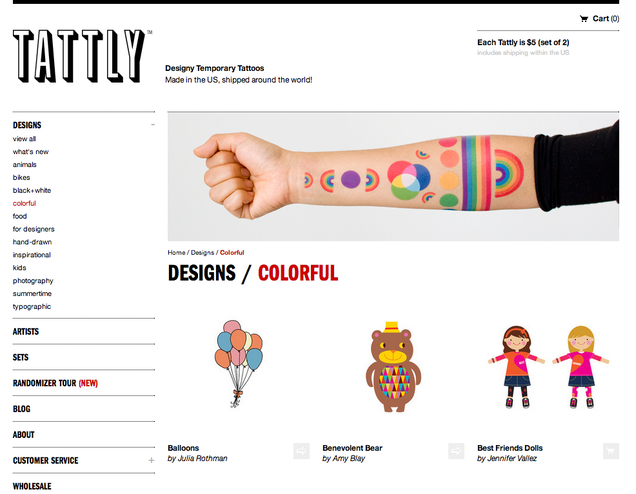 Tattly is an ecommerce project from swissmiss designer Tina Roth Eisenberg. There she sells artful temporary tattoos from world class designers. Within seven months of launch, Tattly had shipped 10,000 orders through its Shopify storefront.
6. WeWood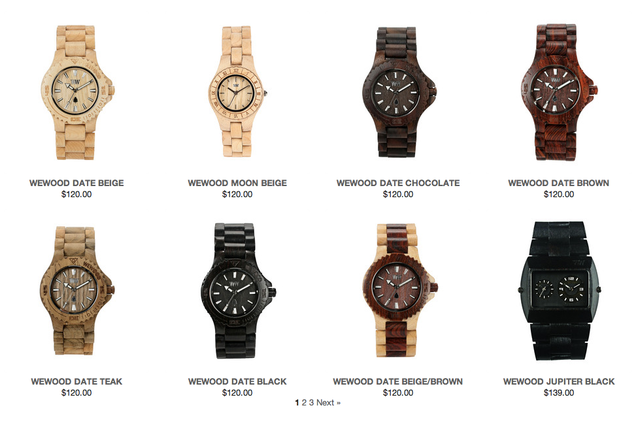 WeWood manufactures and sells modern wooden watches. They also give back by planting a tree in association with reforesting non-profits for every WeWood watch that is sold.
7. GoldieBlox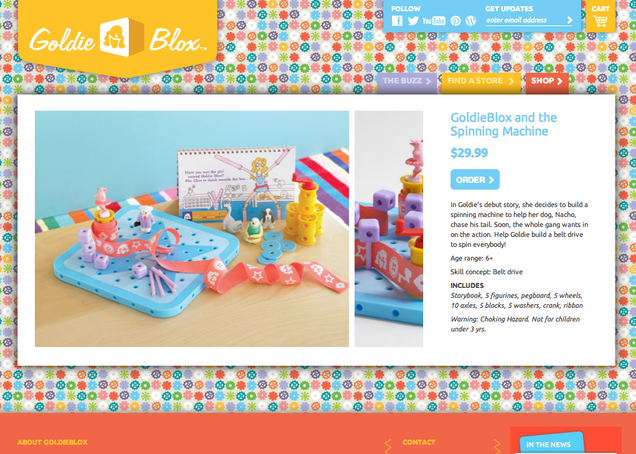 GoldieBlox was founded by a Stanford graduate who wants to make toys for the next generation of female engineers. The toys consist of building blocks, bands, and pegs that help grow spatial understanding and problem-solving skills. GoldieBlox has attracted accolades from major media and can now be found in ToysRUs stores.
8. Modko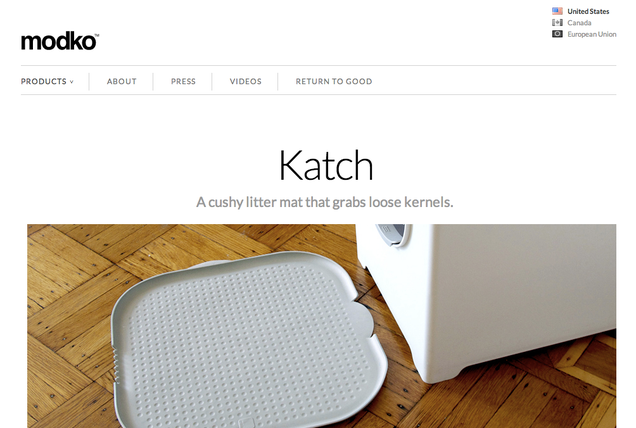 Modko is the cat litter box of the future! It comes to you via a Shopify storefront that delivers the Brooklyn-designed cat accessories to your doorstep. Their signature, design-minded litter box was launched at the International Contemporary Furniture Fair and even won an award.
9. Litter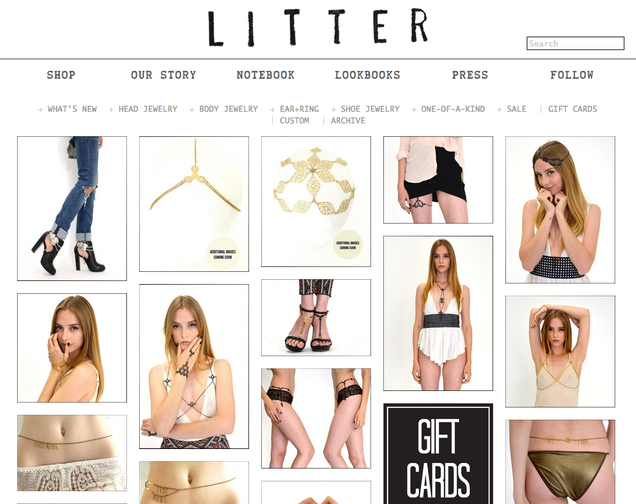 Litter is what indie ecommerce should be. Launched in 2009 by two sisters, the online store now sells original body jewelry that is made in California. They also pitched their business to investors on Shark Tank and landed funding from retail mogul Daymond John and billionaire Mark Cuban.
10. Studio Neat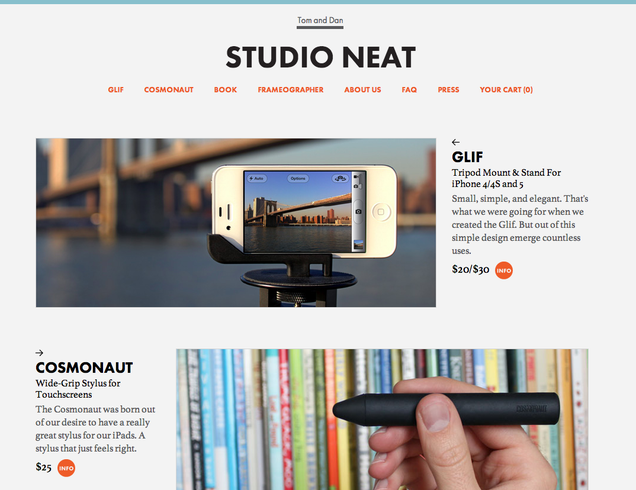 Studio Neat sells technology they have made: the Glif mount, the Cosmonaut stylus, a design book, and a time lapse app. Their first product was funded via a Kickstarter project, so they kindly list their 5,237 backers on their about page.
11. Almond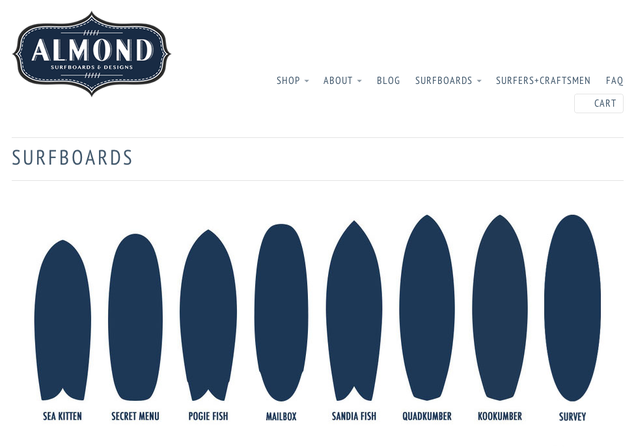 Almond is a surf equipment and apparel shop out of Newport Beach. With their online store, you can easily compare board shapes and types using their surfboard silhouette picker. And they are true to the sport: Surfers + Craftsmen is their group of seasoned surfers who help inform the design and manufacture of their surf equipment.
12. A Book Apart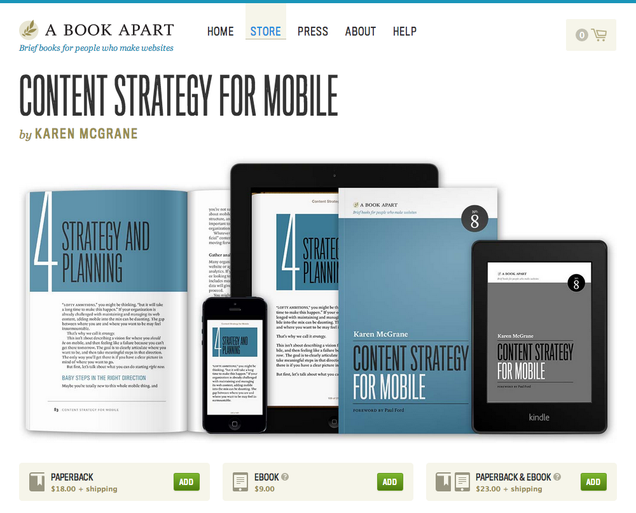 A Book Apart is the bookstore aisle of web standards site A List Apart. It's a natural ecommerce extension that offers books of all kinds for deeper reading on their web design topics. They show the books on multiple platforms and in analog form to emphasize accessibility.
13. Karton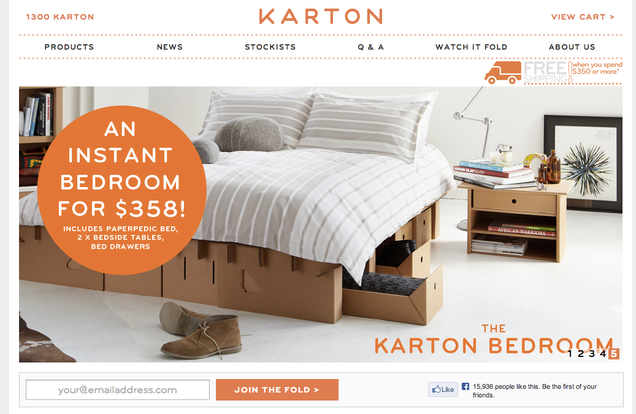 Karton takes cardboard and makes it into contemporary, modular furniture. You can get a bed frame, a bar stool, a speaker lectern, or a decorative cardboard sheep. Whatever you need as long as it's cardboard. Karton uses Shopify to not only take orders but to answer questions and showcase videos of the cardboard-folding process.
14. Tanner Goods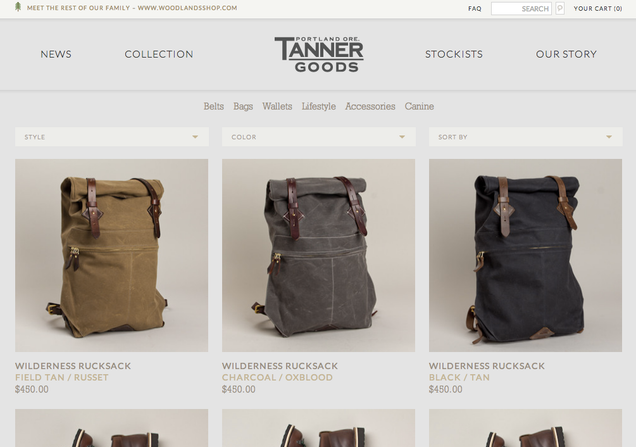 Tanner Goods is a Portland-based leatherwork company that is focused on craftsmanship. With their shop, you can sort through beautiful professional photos of everything from their accessories to their rucksacks.
15. Modern Device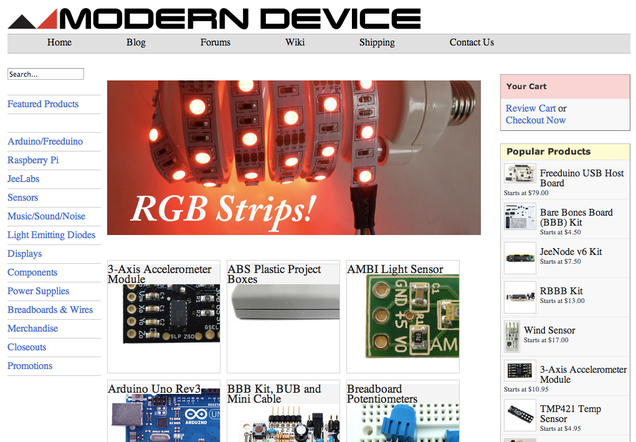 Modern Device is your source for boards like Raspberry Pi and Arduino. They have simple photos and straightforward descriptions of everything from the boards themselves to LEDs to sensors.
16. Madsen Cycles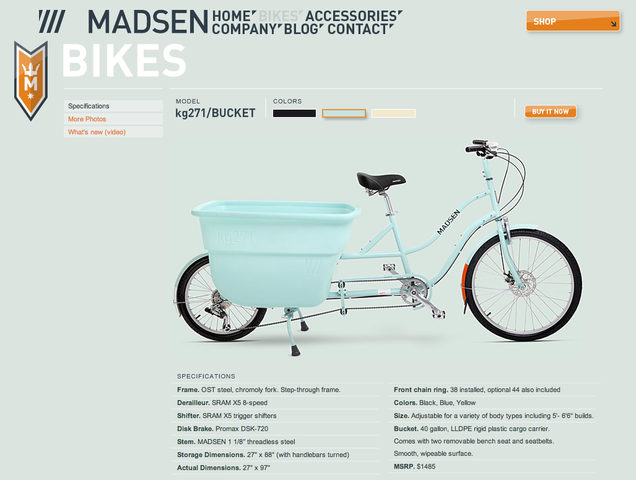 Madsen Cycles sells a 'utility bicycle' which they describe as a bike merged with a wheelbarrow. It helps you get around with dogs, kids, groceries, and whatever else in tow. The vehicles are tested for loads up to 600 pounds and are available in a few colorways. The site keeps it simple by showcasing the form factor and necessary specs.
Get 25% Off Shopify
Gizmodo readers can get 25% off Shopify for life by clicking here. You can review the features and plans and find the right one for your store. Then enjoy a 14 day free trial before your payment begins. The deal is for new store owners only (sorry about that, folks).
>> Click to get a 25% lifetime discount when you set up a Shopify store

---
The Promotions team (we're on the business side, not editorial) negotiates special offers on exceptional products. We partnered with Shopify since they are a strong company in the hosted ecommerce space that supports small business owners.